Jared Kushner Tops the Failing 'New York Times' Bestseller List
Someone loves his book so much they're buying it in bulk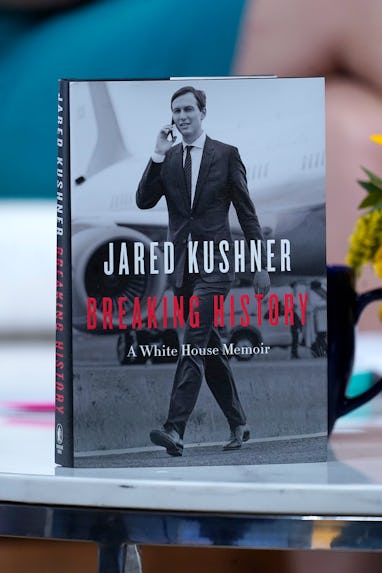 John Lamparski/Getty Images Entertainment/Getty Images
Wednesday night, the New York Times published its latest list of bestsellers and you'll never guess who is topping the non-fiction charts. That's right, it's the sharp wit and stylish prose of Jared Kushner, whose new book is titled Breaking History. Good for him. It's hard to hawk copies, even as the dimpled real estate heir who brought peace to Israel.
At 492 pages, the book — a "fast-paced and surprisingly candid account of how an earnest businessman with no political ambitions found himself pulled into a presidency that no one saw coming," per the blurb — is almost a half-Rowling. And people are still sucking it down. The man even beat out former iCarly star Jennette McCurdy. Check it out for yourself.
It seems some people loved Kushner's opus so much they bought multiple copies. That's what the little dagger below the slugline means. You might remember the dagger from such hits as Stassi Schroeder's Instagram post about her book becoming a bestseller. Per the Times symbol key: "A dagger indicates that some retailers report receiving bulk orders."
Some naysayers might claim this is "buying your way onto the bestseller list." But perhaps that reflects an impoverished imagination. There's a lot you can do with 20,000 copies of Breaking History, like build a fort or stock every Little Free Library in a 100-mile radius. Reading Kushner's tome, a Times critic wrote, reminded him "of watching a cat lick a dog's eye goo," which does sound like something a creepy child would enjoy. Maybe the kind of child who would grow up to succeed in business.