Surprising No One, George Santos Is a Disney Adult
The Congressman's alleged karaoke habits prove it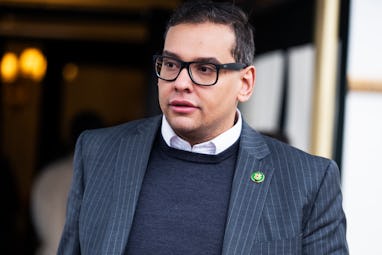 Tom Williams/CQ-Roll Call, Inc./Getty Images
The ballad of Rep. George Santos gets funnier every day. A recent Rolling Stone article claims to have found the congressman's account on Smule, a horribly named karaoke app, where he — or someone who looks and sounds like him — allegedly performed under the name George Devolder (Santos's mother's last name). Miraculously, the account has not been deleted, so act quickly and you can still hear maybe-Santos's stirring renditions of songs like "Hallelujah" (the Rufus Wainwright version), "Somewhere Over the Rainbow," and the cups song from Pitch Perfect.
That Santos would appear to love doing karaoke in his free time is not the most interesting thing here; in fact it is barely a surprise. I have had the pleasure of knowing several gay liars in my time on this earth, and all of them have loved queuing up an 11 o'clock number in a private room. No, the interesting thing about Santos's alleged karaoke habit is that it reveals — in a less than shocking twist — that he is a Disney adult.
The congressman's purported Smule account is mostly Disney songs, with a special affinity for "Let It Go" from Frozen, which George Devolder has posted seven different times. Each time he sang it, he gave it his all, key be damned. You can hear him really feeling it as he belts, "I don't care what they're going to say / Let the storm rage on / The cold never bothered me anyway." (It would seem that cold is bothering him today, though, as Santos announced that he would be recusing himself from all House committees amid calls for his resignation.)
In addition to Frozen, Devolder seemed to have an affinity for The Lion King, Aladdin, and The Little Mermaid. A duet of the Aladdin song "Friend Like Me" — famously a solo number — features the caption "This song is SUCH FUN!! Please join me in going a little cray cray!! FYI You may need 10 cups of coffee to keep up with me on this one!" Santos, if this is him, would've been 26 years old at the time.
With the elected diva's political career seemingly headed for a dead end, it would appear that Santos will need to find a new grift soon. Might I suggest becoming an adult Disney vlogger? It'll be just like Congress (a cadre of in-fighting losers trying to convince an audience that they deserve to be taken seriously), only with more Dole Whip.