Whose Fault Was the Rust Shooting? Not Me, Says Everyone Involved
Some people at the center of the debacle are now alleging sabotage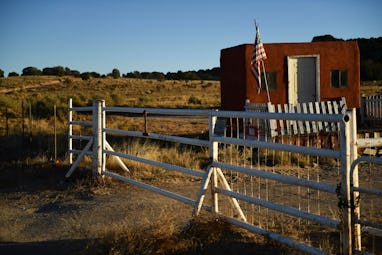 PATRICK T. FALLON/AFP/Getty Images
I'm not going to lie, things are looking bad over at the ongoing Rust shooting debacle. This week, the production's armorer, assistant director, and actor/producer Alec Baldwin — all people at the center of the mystery of how a live round ended up in a gun that Baldwin discharged during rehearsal of a scene, accidentally killing cinematographer Halyna Hutchins and injuring director Joel Souza — have started reaching for various defenses that I'm not sure are doing them much favor in the court of public opinion.
Assistant director Dave Halls, who — according to the Santa Fe County Sheriff's Office's affidavit for a search warrant — was the one to hand the weapon to Baldwin and announce that it was a "cold gun" (meaning there wasn't supposed to be any live ammunition loaded inside) without checking it, is now claiming that he did not handle the gun. "This idea my client grabbed the gun and handed it to Baldwin absolutely did not happen," his attorney Lisa Torraco said on a Fox News appearance on Monday, suggesting that another crew member (whom Torraco did not identify) had "checked" the weapon.
The lawyer went on to say that it didn't matter whether or not Halls had handed the gun to Baldwin because it was the armorer's, not the assistant director's, job to check it, seemingly contradicting Souza's assertion in the affidavit that firearms are checked by the armorer, followed by the assistant director, who then hands the gun to the actor. "If [Halls] chooses to check the firearm because he wants to make sure that everyone's safe, he can do that, but that's not his responsibility," Torraco said.
As Halls apparently tries to pin the blame on armorer Hannah Gutierrez-Reed, she has another theory. Gutierrez-Reed, whose role was notable in part due to her youth and relative inexperience as an armorer, is saying that the whole thing could have been sabotage. Her lawyers, Jason Bowles and Robert Gorence, went on the Today show on Wednesday to share a theory that someone who wanted to "sabotage the set" and "prove" a point about being unhappy with the production had snuck a live round into the box of dummy rounds that Gutierrez-Reed pulled from to load the gun.
"We have people who had left the set, who had walked out because they were disgruntled," Bowles said, referring to the crew members who had quit the production in response to lodging and pay disputes and allegedly poor working conditions and lax safety standards. Besides, the attorneys said, Gutierrez-Reed had been working two jobs on the set — armorer and props assistant to prop master Sarah Zachry, who was apparently the one the remove the guns from a safe in the prop truck and hand them to Gutierrez-Reed — so she wasn't able to attend to the guns when they were left unattended before the shooting occurred.
Meanwhile, Baldwin, who likely won't face criminal liability for discharging the gun, is letting others do the talking for him days after granting his first and only on-camera interview (with paparazzi who chased him down in Vermont) about the incident. On Tuesday, the star shared on Instagram several screenshots of remarks that Terese Magpale Davis, who worked in the wardrobe department for Rust, had posted, alleging that the narrative of the crew members "being overworked and surrounded by unsafe, chaotic conditions is bullshit."
"Read this," Baldwin captioned one of his posts, seemingly cosigning Davis's claims that the movie's producers — of which he is one — were not to blame, that the camera operators who had walked out were "jerks," and that hours and working conditions were reasonable.
A new report by the Los Angeles Times, published a few days before Baldwin's Instagram posts, paints a picture of a production that was under harsh time and budget constraints, and that had already experienced multiple accidental discharges on set. The gun that Baldwin handled was reportedly only supposed to contain dummy bullets, but somehow also had a real bullet, which ended up killing Hutchins. Baldwin has not commented publicly since the report came out.