Untitled Nancy Meyers Project Already My Favorite Movie
This is what will heal the nation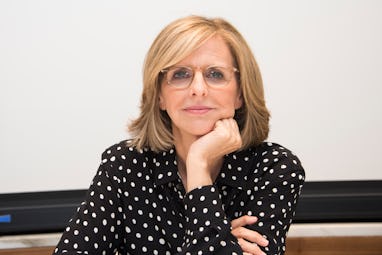 Vera Anderson/WireImage/Getty Images
It is not every day that we get good news. However the big man upstairs is smiling down upon us today, as it was announced in Deadline that Nancy Meyers will be returning to writing and directing.
According to the report, the untitled project will be at Netflix and that's just about all we know so far. There is currently "no title or logline, but sources describe it as an ensemble comedy, which is right in her wheelhouse." Suffice it to say this is already my favorite movie.
What could Meyers be cooking up for us? Thank you so much for asking, I have my own theories. We must of course adhere to the rules of the Meyers Cinematic Universe which are simple yet firm: The protagonist must be rich, white, and female and there must be the opportunity for the most gorgeous kitchen you've ever seen in your life. With that in mind, here are some free movie ideas for Nancy that I think she would knock out of the park:
Estranged sisters played by Julianne Moore and Jessica Chastain reconnect when they find out they've been dating the same man for over a year.
A high-profile chef (Emma Stone) learns how to mix business with pleasure when a slick, handsome restaurant developer (Andrew Garfield) wants to take her career to the next level.
A group of sixty-somethings in East Hampton decide to start swinging in an attempt to spice up their lives. But what happens when the two people who have been locked in a years-long dispute over hedge heights realize that they might have more in common with each other than with their spouses? This is a vehicle for Emma Thompson and Woody Harrelson, obviously.
A washed up author (Jamie Lee Curtis) strikes gold when she finds her daughter's (Kristen Stewart) high school journals in the basement and turns them into a young adult best-seller. Unfortunately for her daughter, those journals contained some secrets, and now people from her past are coming out of the woodwork in droves demanding answers.
An All That Jazz style re-telling of what was actually going on on the set of Home Again, a movie that Meyers's daughter Hallie Meyers-Shyer "directed alone." Reese Witherspoon will play herself.