A Thinx Class Action Lawsuit? Hold My Diaper
Toxic thongs? Thinx, this blood is on your undies...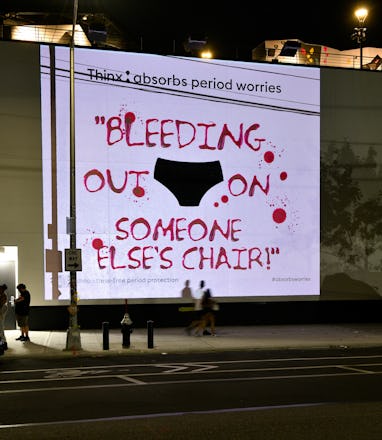 Eugene Gologursky/Getty Images Entertainment/Getty Images
Alright, NOW the girlboss is officially dead – she was free-bleeding in her Thinx underwear, and unfortunately, they were carcinogenic. RIP, Queen. You died as you lived: cruising through your hot and sexy New York City lifestyle, deeply moisturized and totally unbothered, in a soiled modal cotton blood diaper that allowed for greater personal autonomy for vagina-havers under capitalism. Or something?
Thinx, the revolutionary company that shills underwear that wicks and absorbs "five tampons' worth" of period blood, has been hit with at least three lawsuits in the last year regarding the company's claims that their product was "organic, sustainable, and non-toxic," according to Fashionista. Thinx was like the pussy hat of personal hygiene products in our early Trump-era scrambled-egg brains: their advertising was cute, and it was exciting to think that some fabric other than the medical-grade trauma bandage we'd been shoving up our birthing canals could absorb that much blood (and urine!). Not to mention the eco-friendliness of it all.
But it wasn't all rainbows and sunshine at the Glampers factory. In 2015, Thinx "She-E-O" Miki Agrawal was hit with a bunch of boob-related sexual harassment claims. This was just the beginning of the company's downward drip. It turns out most of their products had PFAs (per-and polyfluoroalkyl substances) in them, which are "often used to make fabrics waterproof and stain resistant, but can potentially accumulate and lead to a number of possible health concerns." In addition to PFAs, the underwear in question also contained an odor-reducer and anti-microbial called agion, which comes with its own set of controversial health risks. The company claims it will take steps to ensure these harmful chemicals (they're what make a non-stick pan non-sticky, but for your vag) are "not intentionally added" to its underwear during production moving forward.
In June of 2022, Thinx agreed to pay out $5 million to settle up with anyone who had purchased "its Cotton Brief, Cotton Bikini, Cotton Thong, Sport, Hiphugger, Hi-Waist, Boyshort, French Cut, Cheeky and Thong styles between Nov. 12, 2016 and Nov. 28, 2022." Now, anyone that can provide proof of purchase can be refunded $7 a piece for a maximum of three pairs of underwear, according to Class Action. Those without proof can receive a cash refund of $3.50 per purchase for up to three purchases. Underwear is currently retailing on the Thinx site for about $17 per pair, which makes the maximum refund add up to about 41 cents on the dollar. Not a bad deal for a nasty woman like myself!