The Razzies Are Over. Introducing the Frazzies
Some new picks for 2022's worst of the worst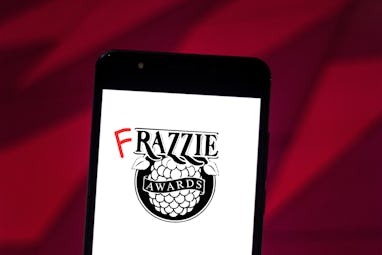 razzies image: getty; f: gawker
Good morning — or should I say, bad morning to the 2023 Razzie Award nominations, the most useless, boring, hater-mindset aspect of film criticism in an industry full of hater mindset. Every year, the Razzies — or the Golden Raspberries, as per their official name — dole out a handful of nominations of what they deem the worst entries in film from the past year. Fine, whatever, people are doing this on Twitter constantly. The Razzies, however, have built up a somewhat troubling reputation, as evidenced by their giant apology to Bruce Willis on their homepage.
Leading the nominations this year is Andrew Dominik's Blonde, followed by numerous nominations for Disney's Pinocchio (that's the Robert Zemeckis one, not Guillermo del Toro), The 355, Morbius, Marmaduke, and Good Mourning (this is the Machine Gun Kelly movie that came out last year — remember when Machine Gun Kelly had a movie come out last year?).
Part of what is frustrating about the Razzies is that they have the same track record as the Oscars, which is to say they are right about 20 percent of the time, given the parameters they set for themselves. The other frustrating thing about the Razzies is that there are different levels and types of bad sweeping the film industry right now, and the Razzies collapse them all.
To wonder whether Blonde is "good" or "bad" is the least interesting way to think about Blonde. To that end, I have no idea if Andrew Dominik has "issues with women," as the Razzies announce that he does (though his interviews do him no favors). If I had to wager, I would say that 96 percent of the issues people take with the representation of Monroe in Blonde come from the film's source material, the novel of the same title by Joyce Carol Oates, who definitely hates women but in a chic way. But Blonde is not really on the same level of something like Morbius, a terrible cash grab starring an alleged rapist, or Jurassic World Dominion, a terrible cash grab starring Chris Pratt.
In turn, the Razzies could benefit from a streamlining of what connotes bad. Here are some categories of films and performances that I, personally, think ought to be immune from the Razzies:
Overlong arthouse-adjacent swings (Blonde, Ana de Armas in Blonde, Tom Hanks in Elvis — you are supposed to hate the Colonel on purpose. Next!)
Miserable new film by a director who has totally lost the sauce (the Robert Zemeckis Pinocchio was already embarrassing; no need to kick him while he's down — the same could be said for whatever is going on with Judd Apatow's The Bubble)
Performances by kids (Firestarter's Ryan Kiera Armstrong does not need this heat, pun regretfully intended)
Movies that were inexplicably buried or don't really exist (The King's Daughter, a movie filmed so long ago that star Kaya Scodelario has since married and had not one but TWO children with her co-star, ought to be exempt)
What remains, in turn, of the Razzies without these categories? A handful of people involved in Morbius, Jurassic World Dominion, and The 355. Fair enough: these are all legitimately bad movies. I never saw Good Mourning, but I trust that a movie starring Machine Gun Kelly is bad, though he was completely palatable in Jackass Forever (as a guy who gets hit in the face). But with room to spare in the categories, allow me to introduce my picks for the worst of the worst of 2022, also known as…
The Frazzies
Worst Picture
If the Razzies are looking for a morally bankrupt, needless IP-driven cash grab, then why leave something like Fantastic Beasts: The Secrets of Dumbledore just lying there? Incoherent, boring, and ugly, with a more-than-problematic author at its helm, this should be at the top of their list.
Worst Actor
Brad Pitt in Bullet Train. It is actually sort of insane how much of that film rides on it being apparently funny that an actor says "shitballs," or even, "holy shitballs," so many times. A woman sitting in front of me played Candy Crush on her phone for the duration of the film, and I wish I thought to do the same.
Worst Actress
A woman has never been bad in a movie. Next.
Worst Onscreen Couple
Awards bodies typically do not acknowledge the relationships between the actors on-screen, instead opting to isolate these performances from each other. At best, consider the SAG Awards "Best Ensemble," or at worst, consider the MTV Movie Awards "Best Kiss." The Razzies choose to split the difference, and they're smart to do so. Too many films have beautiful, hot people who can't conjure a spark of anything interesting between them. Anyway, the winners of Worst Onscreen Couple are Florence Pugh and Harry Styles in Don't Worry Darling, because they remind me of the Worst Offscreen Couple, Olivia Wilde and Harry Styles.
Worst Supporting Actor
Here he is again. Harry Styles in My Policeman. We all paid too much attention to his completely fine performance in Olivia Wilde's Don't Worry Darling when his dull, soulless attempt for dramatic heft fell flat in this banal gay romance.
Worst Supporting Actress
Okay, here I will actually bend the knee and agree with The Razzies, who have nominated Fan Bingbing for The 355. The issue is not that Fan Bingbing is "bad' in The 355; the issue is that Fan Bingbing is not IN The 355. The actress was superimposed into every shot of the film, and all of the dialogue scenes with her have a double in the reverse shot. Call me crazy, but I think actors should be in the movies they're in.
Worst Director
Noah Baumbach for White Noise: what the hell was he doing there? Not even he can tell you.
Worst Screenplay
I haven't actually seen it, but I've seen about forty seconds of the trailer, and there's no way it isn't Marmaduke.