Sometimes Nepotism Is Okay
These people have their place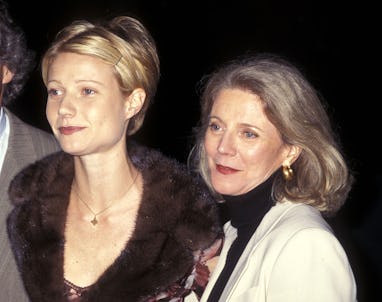 Ron Galella, Ltd./Getty Images
When I was a child complaining things not going my way, my parents would sing the Rolling Stones's "You Can't Always Get What You Want" at me until I gave in. Crucially, they did not sing the part where Mick Jagger says, "If you try sometimes, you just might find… you get what you need," and as such I was raised to believe that sometimes life just isn't fair and we must all make peace with that.
Some of you could stand to learn that lesson when it comes to nepotism in Hollywood. Should entertainment be a meritocracy where only the most talented people rise to the top? Sure. Has that literally ever been the case? No. Do you really think all four of the Warner brothers were pulling their weight?
There are cases of nepotism that stink to high heaven. Ivanka Trump's modeling career, Stephen Baldwin's filmography, and the fact that we know who Chet Hanks is all prove that. But sometimes it just works, and that is something we should all just chill out about. This is how the business works, and if you want to see talented, normal people act, I recommend regional theater.
But not all nepotism is created equal. In my mind there are three different occasions (maybe two-and-a-half) whereby it is fine for a famous person to have a famous parent. Please note that I said famous parent, not just a rich parent. Nick Kroll's billionaire corporate investigations father or Taylor Swift's financial advisor papa do not make them the beneficiaries of nepotism — they simply had class privilege, which is different and frankly more annoying. I will always appreciate someone who went into the family business over someone whose parents paid their rent while they did open mics.
What are those three (two and a half) occasions I was talking about? Thank you for asking. Let's break them down.
Talent
This is the obvious one. Several of our most talented and well-known entertainers are the offspring of other talented and well-known entertainers. Drew Barrymore, Gwyneth Paltrow, Laura Dern, every Wayans sibling, and the entire Coppolla/Schwartzman/Cage clan all spring to mind. The Gyllenhaal siblings' mother is an Oscar-nominated screenwriter, George Clooney's aunt was the famous singer Rosemary Clooney, Jane Fonda's last name is Fonda. The list goes on and on, but the throughline is that all of these nepotism recipients are talented in their own right, and it's hard to credit all of their success as just a result of being the children of famous people.
It certainly helps, of course. In 2019, Jamie Lee Curtis credited the fact that she is the child of Tony Curtis and Janet Leigh as the reason she was cast in Halloween, saying, "If you're going to choose between this one and this one, choose the one whose mother was in Psycho, because it will get some press for you. I'm never going to pretend that I just got that on my own, like I'm just a little girl from nowhere getting it. Clearly, I had a leg up."
I'm certain that Paul Thomas Anderson would have never known who Cooper Hoffman was had he not been a dear friend and collaborator of the late Phillip Seymour Hoffman. But no one seems too mad about that aspect of Licorice Pizza, and that's because the younger Hoffman is a true talent.
Furthermore, it would be a waste of charisma for some of these people to live entirely normal lives. Imagine if George Clooney was just some guy in your town who had a dentistry practice. That would be insane.
A Different Lane
Here is where the half an occasion comes in. If someone's famous parent is known for a different career than the one they have chosen, the person in question still needs talent, but I am more willing to forgive them if they are not the second coming of their parent. Take, for example, Allison Williams. The Girls actress and daughter of Brian Williams did not have to hustle her way to the top, but her accomplishments as an actress are a bit more impressive than if she had opted to be a co-host on The Talk.
Other examples of this category include the rest of the core four Girls cast, Maya Rudolph, Willow Smith, and whatever comes of Ireland Baldwin's screenwriting career. I am rooting for all of them, mostly because if you have ever met the child of a famous person you know that they are not like you and me. They are weird and rich, and they need to be amongst their people.
When It's Funny
Some people are famous simply because their parents are famous, and that has a place too. I have loved watching Brooklyn Beckham try on several different careers — who could forget his acclaimed photography book, What I See — before settling on being a mediocre chef with a dummy expensive Facebook cooking show. That is funny, and I don't think we give nepotism enough credit for producing some truly wacky characters. Susan Sarandon's daughter Eva Amurri, known professionally as Happily Eva After, does some of the wildest mommy blogging this side of Salt Lake City. Chet Hanks famously coined "white boy summer," which gave us something to talk about for a weekend. I like that Scott Eastwood is just around. These people have their place, and it is Instagram.
When Is Nepotism Not Okay?
When someone is neither talented nor zany nor doing their own thing, that's when we actually have a problem. The first person coming to mind is, say it with me, Kendall Jenner. She is not a particularly gifted model (runway or print), she doesn't bring much charisma to the various Kardashian television programs, and her Thing is… tequila? I'm bored. Let's get this girl an auto-tuned dance single or a line of cashmere sweaters for dogs ASAP.