We Can't Afford to Lose Regal Cinemas
The multiplex chain is a beloved part of the movie-going ecosystem, terrible commercials and all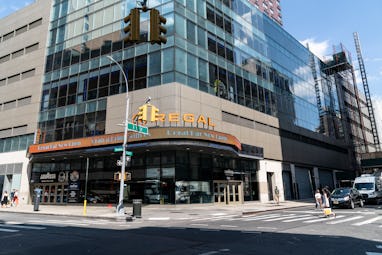 Pacific Press/LightRocket/Getty Images
she's beauty and she's grace
Regal Cinemas just can't catch a break. Amid a new bankruptcy filing by the movie theater chain's parent company Cineworld, 39 additional U.S. locations are due to close, Insider reports. As an avid movie theatergoer and — here I must be honest — a Regal Crown Club member, this frankly fucking sucks. The closest geographic closure to me is New York's Regal Union Square, where I once accidentally saw Baz Luhrmann's Elvis on three walls by accident. Where will New Yorkers be able to see a movie on three walls by accident now?
To be a loyal Regal Cinemas patron is to have a chip on your shoulder by nature. To address the elephant in the room, Regal is not the movie theater chain with the viral Nicole Kidman ad. This, I have to believe, is the core reason why Regal has suffered financially over the past few years. The relentless meme-ability of Kidman's AMC ad drew in visitors who would pay $18 just to say "somehow, heartbreak feels good in a place like this" with her. No offense, but who fucking cares. If you need a viral commercial starring one of the world's greatest actresses phoning it in to justify the act of going to the movies, perhaps modern filmmaking is not for you.
To attend a showing at a Regal theater, however, is an act of profound strength. In order to enjoy a movie at Regal, you have to endure their version of the Nicole Kidman ad, which is a series of vignettes about moviegoers and Regal employees who are cursed to only speak in movie quotes. Take a look, Stubs members, and despair:
A proposed power ranking of the performances in this minute-long ad will come later in the year, but consider this Regal ad one of the most alienating and strange endorsements for movies of all time. Danny Trejo? What is he doing there? Does anyone know what they're doing there? Bizarrely acted, hardly logical — this ad lives, as they say, rent-free in my mind. I can no longer do anything, see anyone, enter a room, without hearing the first line in the ad: "It's all happening." To see this ad as often as I have (at least 40 times) is to suffer and transform. I'd like to see Nicole Kidman try that for once!
The vocal, collective dismay around the Regal closures transcends its pithy advertisements. Really, it is hard not to see this poor business reality as a further blow to the theatrical experience. The life we grew up with — scores of theaters everywhere: some blockbuster, some independent, some repertory — is vanishing quickly. It's not that I don't want to be forced to become an AMC Stubs member; it's that we deserve the choice of theaters, times, and seats. We deserve to see something in 4DX and throw up afterwards. We deserve to accidentally see something on three walls.
The Regals I've known are flawed, but so is every theater: The train runs alongside the Angelika, the Times Square AMC is always sticky, Metrograph has uncomfortable seats, my neck hurts at the Quad, the projection is sometimes fuzzy at IFC, who even knows where the IPIC theater is or who goes there. Streaming services want you to turn your home into the perfect theater, but the perfect theater can't exist. It's not that Regal ever tried to get close to perfection. It was just there: lights low, screen big, Baz Luhrmann's Elvis plastered on three walls, dazzling and dizzying and delighting.