It's Official: "Naatu Naatu" Is Better Than Taylor Swift
The hit dance song from 'RRR' might be on an unstoppable journey to Oscar gold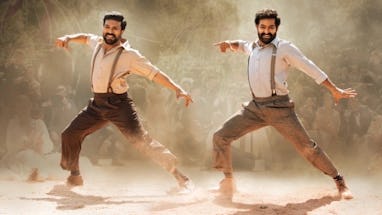 DVV Entertainment
Several months ago, I made the private, personal prediction that there would be two possible ways ahead to saving the Oscars. The first was that they had to give a nomination to Taylor Swift's "All Too Well: The Short Film" music video, who hilariously did not make the short list for Live Action Short. The other prediction was that they need to show a live performance of the song "Naatu Naatu" from RRR, complete with a dance number, to save the show altogether. Though the first prediction did not come true, I am betting big on the latter now that "Naatu Naatu" and its composer M. M. Keeravani took home a Golden Globe for Best Original Song.
First: consider the magnitude of a non-English language Best Original Song winner. "Naatu Naatu" not only beat Taylor Swift for her flop song "Carolina" from Where The Crawdads Swing, but also Lady Gaga, Rihanna, and whatever the hell "Ciao, Papa" is from Guillermo del Toro's Pinocchio. What's more? "Naatu Naatu" is actually a better song than all of those other tunes. Take a look:
"Naatu Naatu" has everything: hot guys, dance breaks, costumes, and an all-out memorable chorus. M. M. Keeravani is even cousins with RRR's director S.S. Rajamouli, making this a whole beautiful family affair. RRR's success is thrilling in part because it shows Hollywood what a big budget movie can do, including have a song that's better than something Taylor Swift wrote.