RHOBH won't be same without this maniac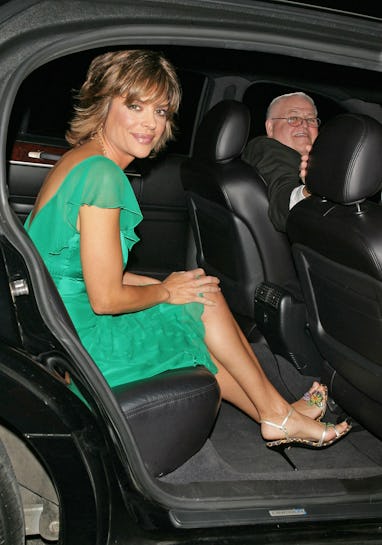 Steve Kondiles/Bauer-Griffin/GC Images/Getty Images
The last season of The Real Housewives of Beverly Hills was a difficult one for Lisa "biggest bully in Hollywood" Rinna. Unsurprisingly, amid rumors that she was demanding $2 million per episode and that Kathy Hilton was refusing to return if Rinna remained in the cast, there was much talk about whether the former soap star would return to the series. And now we know: According to a statement to People last night, Lisa Rinna is out as a main cast member of RHOBH.
"This is the longest job I have held in my 35-year career and I am grateful to everyone at Bravo and all those involved in the series," Rinna said. "It has been a fun eight-year run and I am excited for what is to come!"
Damn, RIP. I'm torn. On the one hand, Rinna brought a lot to the show. She is one of the most shameless liars on television, which I find mesmerizing; it's shocking to see someone nearing 60 behave the way she does. She perfected the art of talking so much at someone that they eventually ended up forgetting how she had wronged them and somehow found themselves apologizing to her instead. And, of course, she produced two of the most depressing reality-television daughters in history.
On the other hand, Rinna had gotten increasingly evil to the point at which her absolutely terrible personality overshadowed any ability she had to be iconic. Even some of her biggest fans (me) turned on her. Watching Rinna berate Sutton Stracke for being a little bit annoying was painful — and her bad vibes were further crystallized by her feud with Kathy Hilton over what Hilton may or may not have said during a trip to Aspen.
The best thing about the Housewives as a series is that ultimately, they will always find a new crazy bitch to enter the folds. Rinna's time may be up, but there are dozens if not hundreds of post-menopausal women willing to humiliate themselves waiting for their opportunity. I'll always remember Rinna, however, for spending most of her Housewives tenure so beautifully maintaining the balance between being morally reprehensible and being fun. She did it like no other.