Fashion Industry Again Dips Toe in Noose Water, Public Still Finds It "Too Noose"
Givenchy showed a noose necklace at Paris Fashion Week.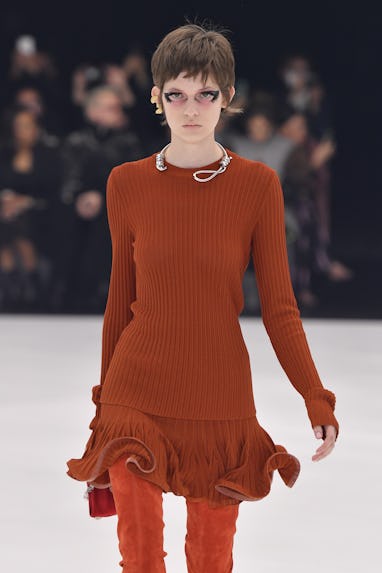 Victor VIRGILE/Gamma-Rapho/Getty Images
What's edgier than a noose? It's a question designers at haute fashion houses seem to ask each other with some regularity. "Um. A gun?" you can imagine someone suggesting. No, not a gun; not edgier than a noose. "Can we do … well, not a swastika, but something that sort of alludes to it?" That might be too edgy, they laugh. Okay, well. Noose it is!
Yes, the humble noose — it just fits so elegantly around a neck, somehow. Givenchy showed this noose necklace at Paris Fashion Week on Sunday, as part of their spring/summer 2022 collection, drawing much criticism and outrage, as kicky nooses tend to do. This comes just a few years after Burberry showed a noose hoodie in their autumn/winter 2019 collection.
Burberry's noose hoodie was, too, the subject of much criticism and outrage. Burberry apologized for the hoodie, saying essentially, Aw shit, that does kinda look like a noose, huh?:
"We are deeply sorry for the distress caused by one of the products that featured in our A/W 2019 runway collection. Though the design was inspired by the marine theme that ran throughout the collection, it was insensitive and we made a mistake."
The model wearing the noose hoodie also apologized in a lengthy Instagram post. Alternatively, in response to a request for comment from the Guardian about their noose necklace, Givenchy said: "The house do not have an official response on this." Oh do it not, hm? We'll see if it do later!