Can You Guess What Tom Daley Was Knitting?
The gold medalist was knitting something at the Olympics — but what?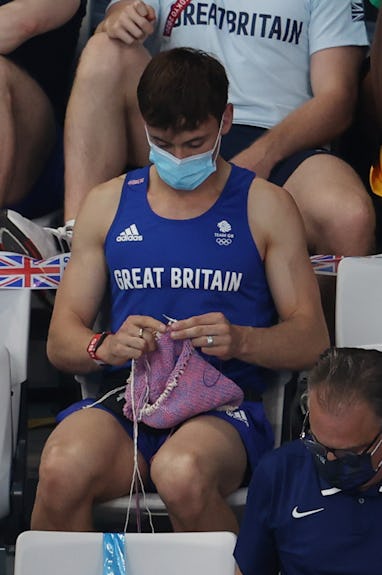 Clive Rose/Getty Images Sport/Getty Images
Tom Daley was knitting something at the Olympics. Already your interest is piqued. "... Who is Tom Daley?" you're wondering. Well, I'll tell you as soon as I double-check the article from which I am aggregating this information. Okay, here we go — he is a competitive diver and an Olympic gold medalist from Britain. He won the gold in the men's synchronized 10-meter platform last week. Good for him! (That was sincere.) More recently, he was seen knitting. But what was he knitting?
There he is, knitting. Do you have any guesses as to what? Here's some more information: Tom Daley is 27 and he took up knitting in March, because of COVID-19 lockdown-related boredom. He is married to Dustin Lance Black, a film director who is 20 years his senior. (I'm not saying this for shade purposes but just because it is what I'm reading about him online.) What else … From ages 11 to 14 he attended Eggbuckland Community College. Okay, do you have your guess?
Okay think of your guess and I'll tell you the answer. Remember, the question is: What was he knitting? Was it a scarf? A sock? A hat? Something more unique? Any game can be fun if you decide that it is. Was it a shirt? Knit … pants, maybe? Maybe some sort of wall hanging? Well…
The answer…
Is…
A dog sweater. :) (Not the one in that photo.) "I was making another one at the pool yesterday lol," he wrote in the photo's caption. Aw. Thank you, Tom!