Brad Pitt's Bad Year Continues
His movies are flopping and he's selling off property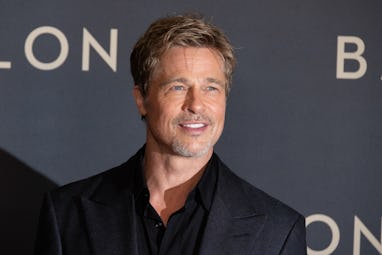 Marc Piasecki/WireImage/Getty Images
It's not easy being Brad Pitt. Despite his new role as Mayor of Hollywood, the gender-bending multihyphenate can't really catch a break. As my coworker Olivia noted in the urtext "Brad Pitt is Flailing": The trifecta of Babylon flopping, his new fake age-gap girlfriend, and his ongoing lawsuit against his ex-wife Angelina Jolie has put him in a risky position. Yet surely Brad Pitt, the world's most flirted with man at the Golden Globes, can hang in there, right?
Well, maybe not, if he's cooked financially. To catch you up on the Pitt money woes, he sold a majority share of his production company Plan B back in October. Plan B had a good track record for a long time, and in the latter half of the 2010s, they produced several undeniably great films like Tree of Life, 12 Years a Slave, Moonlight, and The Lost City of Z. They even produced Minari, in which Oscar-winning Youn Yuh-jung wondered aloud in her speech whether the actor had ever been on set during filming. Since the pandemic, however, Plan B has been a little less lucky, throwing its weight behind a handful of flops over the past year, including Blonde and the double-shot virtual signaling of She Said and Women Talking.
Reports are that Pitt is selling his Los Feliz "compound" — I love how every celebrity lives in a compound; seems enviable! — to spend more time in his Carmel estate. Sarah at Lainey Gossip argues that real estate moves are always a warning sign in the world of celebdom, whereas in my community they usually just mean a landlord raised the rent 40 percent and we have to move to South Slope.
Obviously, Pitt is not broke-broke: he's still selling his grape-infused skincare and his truthful cashmere, and Bullet Train, like so many bad movies, made a lot of money. But perhaps the past year of flops has led him to do some reevaluating of his priorities, to inch away from Hollywood both physically and economically — to go "upstate," as many of us eventually do. I doubt he's going to wind up strapped for cash, but if Le Domaine ever goes on sale, maybe I'll throw him a couple bucks.