Blake Lively Has Joined the Colleen Hoover Cinematic Universe
She even went brunette for the part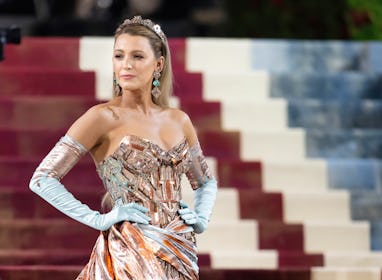 Gilbert Carrasquillo/GC Images/Getty Images
Your days of feigning disinterest in the Colleen Hoover literary phenomenon are coming to a close. Try as you might "not to care" or "not even know who that is," a film adaptation of her hit novel It Ends With Us is staring us down the barrel whether you like it or not.
Not since the likes of Fifty Shades of Grey's E.L. James or Twilight's Stephenie Meyer has an author had such a profound chokehold on normie women looking for seemingly hot sex in otherwise bad novels. Hoover is, at present writing, one of the best-selling authors of all time, selling out reigning airport moguls like James Patterson and Lee Child with female-driven romance novels. Most miraculous is that Hoover found this success initially as a self-published writer. Her books blew up on TikTok, and now you can't fly anywhere in the domestic United States without seeing a table full of her work.
The main two things to know about her books is that there's always something a little twisted going on — the nice boy next door is actually your English teacher (Slammed) or your crush accidentally knocked up his step-sister (Ugly Love) — and that these characters always have insane names. Take, for instance, the love triangle at the heart of her most popular novel, It Ends With Us. Our lead? Lily. Okay, normal so far, if a bit on the nose given she is a florist. Her love interest? Well, that would be Ryle. And the other love interest? That's Atlas.
It was announced that Blake Lively would be playing Lily opposite Jane the Virgin's Justin Baldoni as Ryle, who is also directing. Who's gonna play Atlas? IDK, Theo James or whatever (that would be crazy, actually). It Ends With Us — which I have mistakenly typed as The Last of Us every single time in this blog — is Hoover's most personal work, exploring an abusive relationship between trusting, beautiful Lily and the world's cruelest neurosurgeon (dreaded Ryle). Hoover states in the book's afterword that it was based on her own mother's domestic abuse. I bet the discourse surrounding the film adaptation will be totally normal!
Lively is the ideal actress for a Hoover adaptation: bright-eyed and naive and able to bring a strange sense of dignity to any project. She dyed her hair dark!
She's taking it seriously. Her casting legitimizes the project: we are barreling into a new era of Nicholas Sparks-esque movies, soapy with ham-fisted dialogue and troubling gender politics. I bet Taylor Swift is going to write the hell out of an original song for the credits.