Andrea Riseborough GUILTY of Being a Good Actor with Friends Who Appreciate Her
The Academy found the British character actress innocent of any Oscar campaign mishegoss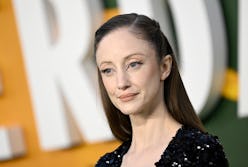 Gareth Cattermole/Getty Images Entertainment/Getty Images
Well, well, well: after a quick investigation, the Academy of Motion Picture Arts and Sciences found queen of grassroots campaigning Andrea Riseborough innocent of all non-essential charges in the 2023 Oscar race. Variety reported that while the AMPAS still have concerns about the use of social media, that'll be taken up with the guilty parties. "The Academy has determined the activity in question does not rise to the level that the film's nomination should be rescinded. However, we did discover social media and outreach campaigning tactics that caused concern," said Academy CEO Bill Kramer. Given Riseborough herself is offline — I'm jealous — no one can be mad at her, once and for all.
You know what? Good. If Riseborough is guilty of anything, it's having friends who like her and being just talented enough to make her friends feel bad that she doesn't get recognized more often. It's not a crime to have your friends love you. Is it a crime if your friend Frances Fisher (no relation) bugs all your other friends until you get an Oscar nomination? Maybe, but we don't know for sure yet.
Oscar campaigning has always been dirty and stupid. Lest we forget that Apple, like, literally bought a Best Picture win last year. That Riseborough, an underrated and consistent performer, is getting acknowledgment for the type of movie otherwise ignored by the Academy feels like a fine compromise for an organization who also gave Rami Malek an Oscar. That she's guilty of pushing out strong performers like Viola Davis or Danielle Deadwyler is a scant possibility, but to assume that studios like Universal and Sony don't have the funds for a successful campaign is a gross underestimation. Mostly what this proves is the power of email and relentless IG tagging, and that starring in a movie with Marc Maron often ends well.