Problems Between Tom Brady and Gisele Bündchen Old Enough to Ride Bike
According to a source, their relationship has been in trouble for at least 10 years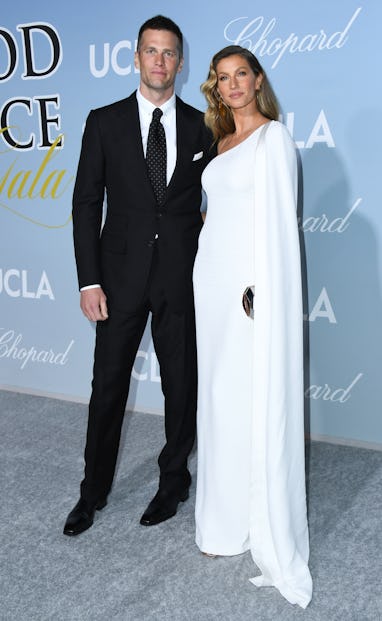 Jon Kopaloff/FilmMagic/Getty Images
Until recently, Tom Brady and Gisele Bündchen seemed like the perfect couple. One, a 100-year-old football player who recently reversed his decision to get to know his family beyond an acquaintance level by un-retiring from the sport his wife hates. The other, a former supermodel lucky enough to be given 100 percent of the work of raising their children. But as we now know, appearances aren't always what they seem …
Last week, Bündchen advanced to the next level of Divorce Watch and hired a lawyer. She also hired an energy healer, bringing her to the level of Divorce Watch directly beyond Lawyer. And even though Tom Brady has a strong, brawny exterior that his best friend would absolutely die for, he's actually feeling a bit weepy about the whole mess and also he has a bellyache. But according to a People source, he should be well acquainted with his latest marital woes.
"[The problems] are 10 years old," the source said. "This has been going on forever. This is nothing new to either of them."
According to the website She Knows, by the age of 10 a person is typically able to do things such as: groom themselves, prepare simple meals, obey traffic signs and signals, dress themselves, and brush their teeth. According to the website Very Well Family, a 10-year-old might also be able to ride a bike and play sports. Cold comfort for Bündchen, I imagine, although I do hear that she's doing fine.
"Gisele is doing fine," the People source continued. "She is getting her stuff in order. They are both over [fighting for their marriage] and it's happening now so they can do their own thing and move on."
10 years is a long time to be fighting with Tom Brady. (Just ask [whoever a known football rival of his would be]!) But at least their mutual resentment has grown old enough now to be a bit independent. Soon, after custody is arranged and mutual assets are sorted, their contempt will flee the nest for good. And won't we miss it then?