'The Traitors' Is Cozy, Sadistic, and Worth Watching for 10 Hours Straight
Plus, Alan Cumming's wardrobe is to die for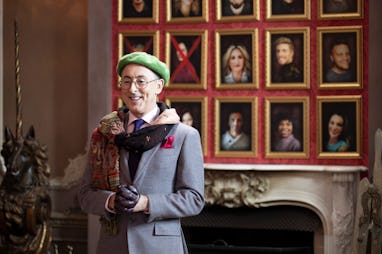 Peacock/NBCUniversal/Getty Images
When I first heard about The Traitors, a 10-episode Peacock murder mystery reality competition series — specifically, the American version of the Dutch show De Verraders — that takes place at a haunted castle/executive retreat center in rural Scotland, I wasn't all that interested. It used to be that I would easily devote 128 hours of my life to any program that featured reality TV dukes and duchesses like Shahs of Sunset's Reza Farahan and Real Housewives' Brandi Glanville. But ever since Farahan screamed at his Shahs co-star Mercedes "MJ" Javid shortly after she almost died in childbirth that her "uterus exploded" because she had had "10 abortions," and since Glanville and Taylor Armstrong had the most disturbing conversation I've ever heard at the fabulous Red Lion Inn on The Real Housewives Ultimate Girls Trip, I've lost my taste for these kinds of traitors.
Still, I love falling asleep to the sounds of influencers and real estate agents going at each other, and so this past weekend I gave the new series a go at bedtime. From there, I never went to sleep. It turns out that I was wrong about The Traitors: It is incredible television.
Before we get into the blood, sweat, and casks of whisky, let me explain what the show is about. Out of 20 contestants who are brought to the aforementioned Scottish castle, three are secretly named "traitors" and given the power to kill off a non-traitor (a.k.a. a "faithful" contestant) every night. Also every night, the whole group votes to banish a player in an attempt to root out traitors. If only faithful remains by the end of the game, they split up to $250,000, a prize pot that gets added to by completing a daily physical challenge that otherwise doesn't really affect strategic gameplay. But if even one traitor remains, then the traitors take home the money.
Sounds bad. I know! So what makes The Traitors good, actually? It's not really about the contestants, a mix of civvies whose names I never learned and dud reality stars like former Bachelor Arie Luyendyk Jr. Even the real cuckoos among the players — including a normie named Christian, who is a little too gleeful about doling out imaginary violence to his castmates, and Below Deck's Kate Chastain, whose endless quest to get herself banished from the castle left me indifferent — aren't the main draw. Nor is it about the gameplay, which I rarely understood. No, the thing that I find most captivating is the interplay between the lived-in grandeur of the castle and the glossy perversity of the challenges.
The Traitors vacillates wildly between cozy murder mystery and actual sadism. Take host Alan Cumming, who straddles this line perfectly. I was immediately taken by Cumming's meticulous wardrobe inspired by the tartan kilts, capes, and brooch-adorned suits that the men of the Highland moors surely don every day. The Scottish actor plays a version of himself, one who lives in the haunted castle and derives pleasure from trapping his guests in sicko little cabins in the woods. There, we are treated to the sight of bushels of live maggots and roaches getting dropped onto Kate Chastain and Survivor's Cirie Fields as they attempt to crack a combination lock. In another challenge, contestants get buried alive in the ground. They attend a funeral filled with masked mourners straight out of a B-horror movie. They are forced to listen to the creepy twinkle of music boxes in order to identify songs that their teammates performed poorly on rectory bells. These are legitimately haunting.
But the most sinister part of this show is not the burial plots or the drowning risks, but how quickly humans drop any sense of autonomy in favor of belonging to an in-group for safety. Immediately after Cumming secretly chooses the traitors, we see distrustful contestants start to refer to themselves collectively as "we the faithful." Banishment discussions at the roundtable quickly devolve into a game of jumping on the defenseless, with any deviation from the popular vote framed as a cause for suspicion. While the worst thing I could ever do as a writer is to draw a parallel between the fractious state of American politics and a streaming-only show based on the campfire game Mafia starring the worst that Bravo has to offer, the unfounded paranoia amongst the faithful is disquieting. Nobody is thinking critically because it would make them a target. The traitors, meanwhile, although initially conflicted about betraying their castmates-turned-friends, ultimately make decisions based on how much they feel they "deserve" to win $250,000. Nobody in this castle, not even expectant parents or trauma nurses, really "deserves" anything.
But it's fun to consider how well you, the viewer, would perform in this game, just as a little thought exercise. I became convinced that a rack of toast placed on the breakfast table each morning to pad out the catered spread would serve as an important clue because a few episodes prior, a pair of ballet slippers used as decor in the castle came to play a role in a challenge. It turns out that it wasn't, and I would not be very good at this game. That's okay, though, because almost none of the contestants are good at it, either. For the faithful, a game plan doesn't really appear to be a necessity. Professional doofus Ryan Lochte manages to outlast several other cast members, if that tells you anything. None of the faithful players seem to play with any strategy or critical thinking skills. In fact, having an unassuming personality and voting along with the group gets contestants further along in this competition than being smart. Those who display any hint of deductive reasoning — like Glanville, who, in spite of her abhorrent made-for-TV personality traits, has always been a diabolical genius — are cut early and often.
That's what makes The Traitors so entertaining. While there were fewer strategic twists than I've come to expect from this sort of show, the high potential for human terror and delusion wrought by the cleverly themed challenges makes for genuinely surprising viewing. Anything can happen. Viewers and contestants alike want to hang out at the castle all day, and then before you know it, people are being dropped from a helicopter into a loch or made to stick their head into a box full of scorpions to grab a clue with their teeth. It's the coziest program on television, and also the freakiest. It's jarring. It's thrilling. It's inconsequential. Don't sleep on The Traitors. You certainly won't be able to fall asleep to it.