Taylor Swift Snubbed Again
The songwriter did not receive an Oscar nomination for "Best Original Song"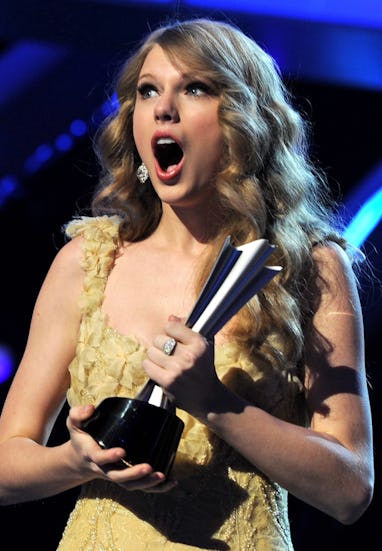 Kevin Winter/ACMA2011/Getty Images Entertainment/Getty Images
You, with your words like knives and swords and weapons that you use against me. You — have knocked me off my feet again, got me feeling like I'm nothing. You, with your voice like nails on a chalkboard calling me out when I'm wounded. You, picking on the songstress who had two chances to be nominated for an Oscar this year and did not get nominated in either case …
One could imagine Taylor Swift singing that song (a lightly edited "Mean") directly to Alison Williams and Riz Ahmed, who had the great honor of announcing this morning's Oscar snubs via live YouTube telecast. Banshees of Inisherin actress Jenny the Donkey — an inspired talent who carried that film on her back, as beasts of burden tend to do — was cruelly added to the snub pile, along with the ever hopeful Ms. Swift. We hang our bangs today in grief.
Taylor Swift's Academy Awards heart first broke in December, when she lost hope of being nominated in the "Live Action Short Film" category (as "director" of the "short film" titled "All Too Well: The Short Film") when the shortlist was released. She was not on it. At that time, though, there was still hope she might win a nomination in the "Best Original Song" category for her song "Carolina" from Where the Crawdads Sing.
Alas, she has not.
Nominated in the category, instead, are Diane Warren's "Applause" from Tell It Like a Woman, Lady Gaga's "Hold My Hand" from Top Gun: Maverick, Rihanna's "Lift Me Up" from Black Panther: Wakanda Forever, M.M. Keeravaani's "Naatu Naatu" from RRR, and Ryan Lott, David Byrne, and Mitski's "This Is a Life" from Everything Everywhere All at Once.
One thinks back to the scene in Taylor Swift's "Taylor Swift" documentary Miss Americana wherein a bereft Taylor Swift receives the bad news that her album Reputation failed to win an "Album of the Year" nomination at the Grammy Awards. "It wasn't good enough," she told her publicist Tree Paine over the phone. Three years later she put out upstate New York-themed album Folklore, and won the category.
What is Taylor Swift saying to Tree Paine right now? Only Tree Paine knows. But I do know this. Taylor Swift is vengeful. Taylor Swift is energized. Taylor Swift is going to get that Oscar nomination — if not next year, then the year after that.
I just hope she takes Jenny the Donkey along with her.