Prince Harry Memoir Spills Secrets: He Murdered 25 People and William Watched 'Suits'!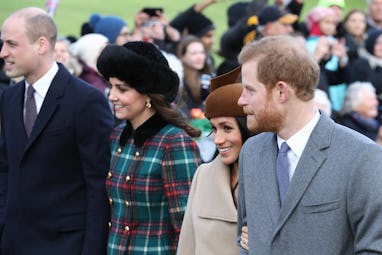 Chris Jackson/Chris Jackson Collection/Getty Images
You hear that? It's just me yelling ¡O dios mio! in the porte cochère of Nott Cott after reading a Spanish language leak of Harry's book Spare, which is entitled Spare: En La Sombra. After this morning's astounding leaks about Willy slamming Harold against a dog bowl and breaking his necklace, I didn't think anything betwixt those pages could get more salacious. And then I saw that Harry claimed that his brother and his bride Kate Middleton were "regular— nay religious– viewers of Suits," according to Page Six. Idol worship from the future head of the Anglican church? Obviously, I believe it because I read it.
In the book, Harry recounts telling his elders about his hot date with the Suits siren after a dinner at their home. After dropping the Markle bomb ("Snogging's great, innit"), Harry writes, "Willy turned to me and said 'Fuck off?'"
"I was baffled, until Willy and Kate explained that they were regular — nay, religious — viewers of 'Suits,'" he continued. "All this time I'd thought Willy and Kate might not welcome Meg into the family, but now I had to worry about them hounding her for an autograph."
Megh's obviously got the sort of acting chops that might inspire fanaticism toward her plucky portrayal of paralegal Rachel Zane, but this brings up a lot of logistical questions on my end. For example: were Will and Kate googling "how to stream suits in uk vpn hook up" all the time in order to access this show like us normals do to watch Love Island? Even as the head of Marklehead Nation (Brooklyn Chapter) I've yet to find a place to watch Suits.
The then-Duke and Duchess of Cambridge played it pretty cool upon meeting Mad Miss Meg, probably exactly like I did when I met Wallace Shawn at a table read of a play. Harry wanted to join his brother and sister-in-law as equals when he finally landed a good girl on his arm.
"Well, now I felt that it was going to happen and I told him so — but he still said to slow down. 'She's an American actress after all, Harold. Anything might happen.' I nodded, a bit hurt,'" Harry writes.
Also of note: Harry killed 25 members of the Taliban. But this is juicier. And the consequences are more dire.