Newly Single Sister Wife Meri Brown Says Maybe She's Not a Great Sister Wife
But one must admit she's the best Instagrammer on TLC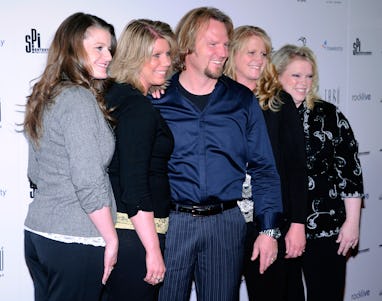 Ethan Miller/Getty Images Entertainment/Getty Images
Sister Wives' Meri Brown, who recently underwent a painful spiritual divorce without even knowing it from her stupid ass husband Kody Brown, is back for another high-octane round of elegiac Instagramming. In late December, the I-guess-no-longer-a-sister-wife and mom to Leon Brown let her legion(s) of fans know that no matter how flat the pancake is, there's always two sides. I was convinced.
Then, to ring in the new year, Meri said goodbye to 2022, though all us Wivesheads must assume that she'll never actually say goodbye to Kody himself and will instead likely live out the rest of her life peacefully clad in buttery soft leggings in a Flagstaff rental property while waiting for her former family's finances to free up so they can rezone the breathtaking Coyote Pass property, where she'll be free to live as some random neighbor to Kody and his one remaining wife Robyn in a tree-dotted lot.
One commenter, celebrating Meri's bright future and new way forward with regards to her Sephora visits, wrote, "Meri, please Robin [sic] a favor and show her how to do her eyebrows. Yours look great. 👍."
On Jan. 3, which everyone knows is the actual first day of the new year, Meri told us all to buzz off and take her exactly as she is. Meri posted a quote attributed to Sylvester McNutt III, an individual who seems to be an author and motivational speaker with a focus on disrupting status-quo white-text-on-black motivational mindset Instagram pages:
"I am not for everyone," the post reads. "I know my truth, I know who I am, I know what I do and do not bring to the table. I'm not easy to deal with but I do bring tons of value. I bring love and strength, but I am not perfect, and if I don't fit in with a person or group that is okay with me."
Goosebumps. Chills! I know you're going, "OK, me AF." Meri is NOT for everyone, and she does NOT fit in with a person or a group as far as I know. And that's okay with her. But she does bring tons of value, anyway. And tons of Rice Krispies.
Love and strength, Meri!