Shailene Woodley and Aaron Rodgers Are Not Talking About It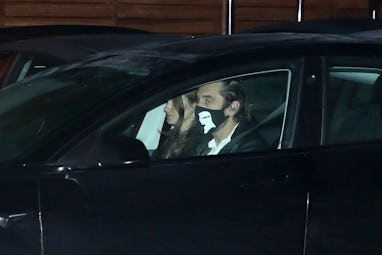 MEGA/GC Images/Getty Images
Unvaccinated and allegedly big-footed Green Bay Packers quarterback Aaron Rodgers has been in the news lately, and before you even ask: no, out of respect for his tenuous relationship with actress Shailene Woodley we will not be saying why. Suffice to say people have been talking, including Aaron Rodgers, about certain matters that may or may not be au courant and it's basically, at this point, political. And divided. And there are a lot of emotions, and we're not talking about it.
"They are not talking about their politics, and they never really have," a source told People. "They disagreed on a lot of things. Early on, they decided to agree to disagree about things and not debate them."
Um it's called a healthy (though I suppose not in every sense) relationship, if you've ever heard of that? It's called "closed communication," if you can literally even get that concept into your thick, talking-obsessed head? It's called attempting to achieve romantic success and, if we were talking about it, which once again we absolutely are not, we would be talking about how it is working.
"She is not someone whose mind you can change," People's source said, "so Aaron hasn't even tried." Yes, Aaron Rodgers has accepted Shailene Woodley for who she is: someone he is not going to talk to. And Shailene Woodley? She's accepted Aaron Rodgers for who he is: someone she is not going to talk to. And that's basically all we have to say about that!