Robyn Dixon Admits Juan Cheated on Her Last Year, and Candiace Is Pissed
You can hear exclusive affair details on her Patreon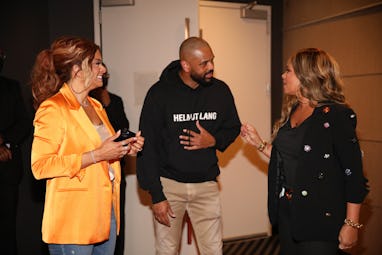 Brian Stukes/Getty Images Entertainment/Getty Images
Real Housewives of Potomac's resident hat businesswoman Robyn Dixon has taken to "Unreasonably Shady," the podcast she hosts with fellow cast member Gizelle Bryant, to confirm the rumor that her husband Juan Dixon had a pandemic-era affair. (And that you can hear all the details if you join their Patreon for $5 a month.)
Robyn, the sleepy and perennially tardy fan favorite (I'm the fan), spent RHOP's last two episodes denying a rumor that her ex- and newly current-husband Juan Dixon cheated on her before the show began filming its seventh season. The rumor, brought to light by fellow cast member and three-wick candle entrepreneur Karen Huger, is as follows: Juan was seen holding hands in Georgetown with a blonde woman who looks like Karen Huger. And how could he resist?
On "Unreasonably Shady," Robyn says she wanted to address the rumor because she "figured there were a lot of lies and things being misconstrued."
"A young lady came forward talking about, she and Juan 'dated' during COVID," she said. "And then she shows this hotel receipt with his name on it."
Robyn explains that the young woman sent this information to both her and Gizelle on Instagram before they began filming Potomac's seventh season, and that she assumed she'd sent it to the rest of the cast as well. "So all of season seven I'm just, like, waiting for someone to bring it up."
Of course, Karen does bring it up while the group is in Mexico, though — according to Robyn — she got the Karen-lookalike and Georgetown details wrong. Although Robyn denied it while filming, she says she was "aware of the situation" and expected to talk about it at some point during the season.
"Now, the situation, when it was presented to me, was handled," she said. "It was something we had to work through. It was not something that was just like … oh, okay, whatever. However, there are a lot of things that need to be cleared up about what allegedly happened, which did not."
These things will be cleared up, naturally, on a paywalled episode of the podcast's Patreon. (Robyn has taxes to pay, and is fantastic at business and finances in a more general sense.) But she did explain a little bit:
"Juan was an idiot and communicated with this woman on Instagram. Because you know, whatever — he's bored, he needs attention, it's the pandemic, blah, blah, blah. Whatever. However, they did not 'date.' He did not fly her anywhere. And there is a reason why his name is on a hotel receipt, which I will share on Pateron. And the reason is not because he asked her to come, and volunteered to pay for this hotel room."
Of course we love Robyn, but it's hard to hear the un-detailed version of the story and respond with anything other than a suspicious "... all right." According to her, the woman was trying to blackmail Juan (on the podcast she uses the word "bribe," but I suspect she meant blackmail) to "become famous off of" them. "But I will say just with respect to Juan and I, we dealt with the situation," she said, "and it was definitely something we had to work through relationship-wise. Maybe that's why the wedding didn't happen when y'all wanted it to."
That, too, will be discussed on the Patreon (for $5).
Elsewhere in the Potomac universe, fellow cast member Candiace Dillard Bassett is pissed, as Housewives tend to be, that Robyn held back on airing her dirty laundry while filming. "Wow: A Thread:," she wrote on Twitter. "Our boss's favorite clap back when we're playing coy about certain aspects of our lives is: 'you're on a reality show about your life.' There is an expectation that — doing no harm — we show up to this platform as our authentic selves."
She continued:
"And while we 'reserve the right to be judicious about what we share,' there is a special brand of audacity attached to individuals who will knowingly bury the lede in exchange for damning and salacious lies that stand to cause irreparable harm to innocent people. It tarnishes the integrity of the premise of our show. It tap dances on the intelligence of the viewership that champion our stories and discover their own parallels in our lives. And when it's not that deep, it simply occludes amusement."
Karen, however, was a bit more succinct.