If Rami Malek Wants to Play Buster Keaton, He Better Be Ready to Die
Is he funny? No one knows.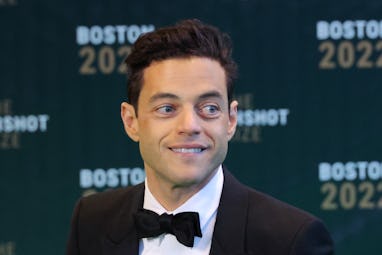 Mike Coppola/Getty Images Entertainment/Getty Images
Casting a major television show about the life and times of one of the greatest filmmakers of all time seems like it would be difficult. There's so much pressure. How do you find someone with the acting chops, the physical resemblance, the gravitas? It would be especially difficult to find someone to play Buster Keaton, the legendary director and actor famous for performing stunts that no insurance company would cover in 2023. You might be thinking, just get some weird little bug-eyed dude and figure the rest out later, which seems to be the plan.
Deadline reported that Rami Malek — who is clearly still carrying the Short Term 12 curse — is currently in talks to star in a limited series about Keaton, with The Batman director Matt Reeves helming the project. They're buzzy names who have the power to get HBO or whoever to sign on the dotted line. But Reeves makes dark, brooding movies about alien invasions and the uprisings of apes, and the most Keaton-like thing about Malek — whose whole thing is playing unsettling weirdos — is that they both have those big, wet eyes. Are they making a drama series about one of the funniest men to ever live? Spare me.
If there is one thing that Malek has going for him in this role other than those peepers, it's that he seems like he might be willing to die. I don't know why, maybe it was his level of commitment to the Freddie Mercury accent. Like Tom Cruise after him, Keaton had no problem doing a stunt that quite literally could have killed him. Take, for instance, this one, in which the force of the water coming out of the tank actually broke his neck.
Now, Malek is not known for stunt work, but if he's going to play Keaton he better get used to it. Unless this is going to be a bracing look into Keaton's messy personal life, which included several wives, alcoholism, and one notable flop era. To which I say, again, spare me. We already have Chaplin. I want to see a guy on a real moving train narrowly avoid death (in a funny way).
Speaking of which, the jury is still out on whether or not Malek is funny. I just watched a video called "Rami Malek Is Hilarious (Bohemian Rhapsody)" and found the title to be misleading. His humor is not so much in the vein of Keaton's physical prowess as it is, if anything, a wryness set to the beats of comedy. Except, of course, for his deadpan Aubrey Plaza-esque performance as Constipated Man in this ad for Mandarin Oriental, which gives the TikTok comedy girls a run for their money.
But I would love to be wrong. Maybe this will be the best thing on TV since Mare of Easttown. If that's the case, I will, in the spirit of Keaton, walk straight into gale force winds. Maybe it will give Malek a laugh.