Priyanka Chopra Jonas Hawking Mall Jeans
Somehow they are important because of the pandemic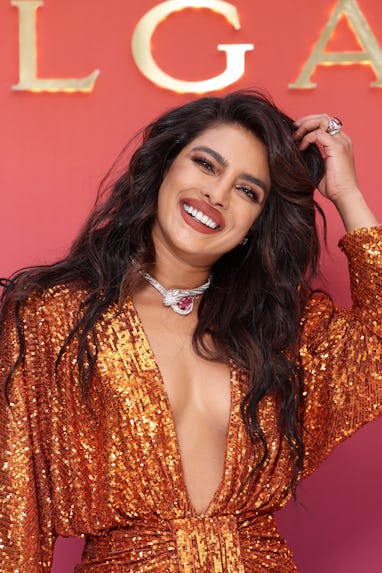 Daniele Venturelli/Getty Images Entertainment/Getty Images
You heard Sydney Sweeney, actors are not getting paid what they used to. That's why so many of them have side hustles as the faces of brands. This can be a very glamorous job (think Charlize Theron for Dior) or random (Jennifer Aniston hawking "collagen protein bars"). As I learned today, they can also be sad.
Priyanka Chopra Jonas, one of the most beautiful women in the world, is now the face of mall jeans. Specifically, she is the face of Gloria Vanderbilt Jeans, a brand you might know as being a mainstay of JCPenney and Kohl's. Chopra Jonas is heading up their newest campaign, titled "I Have Needs, Fit Them." Weirdly, that's also what she said when starting the tradition of "trying to spend" Christmas with husband Nick Jonas.
GV Jeans is not exactly high-fashion, but at $48 for a pair of Amanda Classic jeans that come in shades like "perfect khaki" and "midnight affair petals" it's a hard deal to beat. And to her credit, Chopra Jonas looks better in them than any of us ever will.
As part of her deal to become the person we associate with ugly jeans, the Quantico star has been doing a media blitz. Just today she's given interviews to People, E! Online, and Women's Wear Daily. But what could one possibly say about jeans that look like every other pair of jeans? Well, it turns out that you can say a lot of words without saying much at all.
"I love the skinny. It's always really nice to have a great skinny," she told E! Online. "But I like my jeans to be a little bit forgiving, so I'm happy with the flare jean."
"I'm curvy; I love my jeans being able to hit me in the right places where I need them to be and hide what I need them to hide," she told People. "That's what I love about my GV jeans — whether it's a boot cut, whether it's a flare. I do not like uncomfortable jeans; cannot wear them."
"What I love about Gloria Vanderbilt was that it was built by a woman specifically for our bodies, our curves. I really love the campaign — I Have Needs. Fit Them. — because it goes against the norm of women having to constantly conform to people's needs," she told Women's Wear Daily. "This amazing campaign encourages women and inspires them to be themselves — and I think that's a really important thing, especially coming out of the pandemic."
To recap, she likes the flares, but also the boot cut. She does not like uncomfortable jeans. This campaign is "amazing" because of the pandemic, or something. The main message is that she definitely wears these jeans, she loves them, can't get enough. And now that I've read all that? I will be running to Macy's to pick up a pair of GV Jeans, maybe I'll even take a risk and go for the "port wine floral burst" print.