Prince Willy Beat Harry's Ass So Bad He Broke His Necklace
Also, it was his fault Harry wore that Nazi costume, leaked excerpts of 'Spare' detail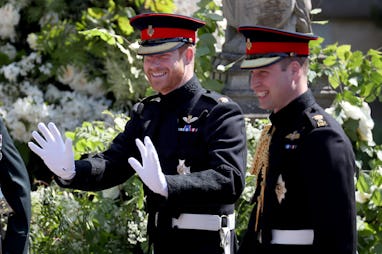 WPA Pool/Getty Images Entertainment/Getty Images
The British press has gotten their blood-stained satin gloves on Prince Harry's impending and highly secretive memwah Spare (out Jan. 10), and all I can say is, baby, I'm repenting at the altar of the Supreme Governor of the Church of England, which is actually a counter at Nando's Peri-Peri. I'm sorry I said the Windsors were flopping their way into opaque panty-hosed irrelevancy ever since their matriarch died of supernatural causes in September. I take it all back. We got ourselves a book book, and I'm blessed to live in a world where I get to read about how a pallid and feeble future king named "Willy" not only encouraged his baby brother Harry to wear a Nazi costume to a "Native and Colonial"-themed party in 2005 but ALSO how he beat Harry's tight little arse so bad that he broke the ickle ginge's treasured Namibian friendship bead necklace (or whateva) in 2019.
According to Page Six, Harry was torn between two different costumes for the N&C shindig, a pilot uniform or a Nazi uniform and phoned his big bro, who himself was dressed as a leotarded lion, for input. Tough choice, and one I understand, and I'd definitely call my own brother about this too.
"I phoned Willy and Kate, asked what they thought. Nazi uniform, they said," Harry wrote. Then he tried it on for them. "They both howled. Worse than Willy's leotard outfit! Way more ridiculous! Which, again, was the point." The Nazi armband photos, famously, were leaked by The Sun, and we've yet to see William's leonine look. According to a royal expert quoted by Page Six, "The fallout sparked 'no speaks' between the pair in the ensuing years, as Harry repeatedly resented being painted as the 'comical fall guy' to his brother's 'glittering hero.'"
I don't think we can entirely blame Willy for his then-20-year-old brother's decision to go full Nazi to a costume party, and I'm surprised Harry is still rehashing this. But it's official: they're all monsters.
Fourteen years later, Big Willy humiliated Harry once again with physical violence. The unbelievable fracas went down at Nott Cott, or Nottingham Cottage, the grace-and-favor home where Harry was living with the fabulous Meghan Markle. When he arrived, Harry said he was "piping hot." Respectfully: it takes one to know one.
Prince Harry recounts what he says was a physical attack by his brother, William, now Prince of Wales, as their relationship fell apart over the younger prince's marriage to the actor Meghan Markle. Describing a confrontation at his London home in 2019, Harry says William called Meghan "difficult", "rude" and "abrasive", which Harry calls a "parrot[ing of] the press narrative" about his American wife.
Apparently, the altercation moved locations throughout the home, and the beatdown occurred in the kitchen, where Harry offered his brother a glass of water.
Harry wrote, "He set down the water, called me another name, then came at me. It all happened so fast. So very fast. He grabbed me by the collar, ripping my necklace, and he knocked me to the floor. I landed on the dog's bowl, which cracked under my back, the pieces cutting into me. I lay there for a moment, dazed, then got to my feet and told him to get out."
That's gotta hurt — like, Harry served in the British Royal Army for 10 years, and physically, his older brother is an elongated avatar of every inbred British royal of the last 300 years and yet still managed to break his lil bro's necklace.
William apologized, told him not tell "Meg" about this, but then denied the assault. "I didn't attack you, Harold," he said. According to the Guardian, "Harry says he didn't immediately tell his wife — but did call his therapist."
Not since royal nanny Marion "Crawfie" Crawford's 1950 tell-all book The Little Princesses have I been this excited for a memoir (I was born in 1909). It's gonna be explosive and humiliating for every single person involved. Only Prince Andrew will come out clean, because at this point no one wants to mention he exists.