Prince William Cracked Wise at a Food Bank
Get this guy on a British panel show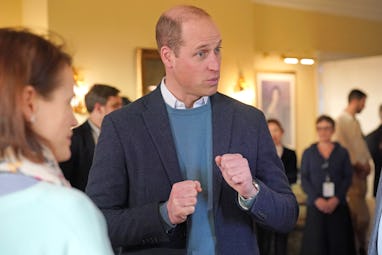 WPA Pool/Getty Images Entertainment/Getty Images
every day is red nose day
I've finished Prince Harry's memoir, Spare, and my main takeaways about Harry's older brother Prince William is that he's no longer beautiful and that he's never been funny. Well, someone with more connections and a better international data plan than I have needs to call up Piers Morgan, because I've got evidence Harry was lying. This guy's hilarious! Plus, he looks quite fit, so I don't know what that freaky little todger boy is talking about.
The proof is in the pud: According to Just Jared, Willy told a joke today at a food bank that was so epic and so random and so insane that every single person living below the poverty line in Great Britain laughed so hard that they pulled a groin muscle and then had to be sent to Switzerland and humanely euthanized and then Brexit was undone and Prince Andrew got his sweat glands back.
Here's the set-up: The wisecracking Willy and his comedy partner/eternal straight man Kate Middleton visited a food bank in Berkshire to investigate the cost of living crisis in Britain.
The Royal Family Channel posted a clip of his intimate set:
As Kate shirks her divine duties by mingling with food bank volunteers in an ankle-length red duster, Will fills a basket with apples. Hahahaha! But that isn't even the funny part. He says, and wait for it,
He says…
William goes, "Excuse me, too much nattering going on over here!"
Bazinga! Thank you, Willy, I really needed that today!
Just Jared reported, "The whole room laughed at this comment," and Jared is not wrong. The five elderly women inside the food bank are certainly cackling at this dry British quip. One of them spoke to People and said that both of the Fabulous Middleton Twins did a good job at the food bank, "One was better than the other, but I won't say which." Laughter is so nourishing.