Prince Harry: My Dad Is Leaking
Ahead of his memoir, Harry explained in two interviews that Buckingham Palace is actually always available for comment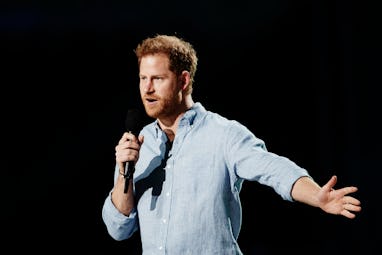 Penske Media/Penske Media/Getty Images
This year, Chrimbo at Sandringham pressed on despite a totally dead Queen and mounting anxiety that Prince Harry, who celebrated far far away with his chosen family of Meghan Markle, their children, and probably a bunch of miscellaneous Santa Barbara polo rats, was about to go full-ass Guy Fawkes with his words and blow the whole institution up. After both ITV and CBS teased two interviews ahead of the release of his memoir Spare on Jan. 10, Haz might make good on this nuclear promise.
Mr. Prince Markle told Anderson Cooper, who is somewhat of a defector himself in that he's conducting this interview for 60 Minutes and not his own show or Watch What Happens Live, that he was a target of press leaks carried out by his own family's personal press offices. The Queen's motto was "Never complain, never explain," but Harry told Cooper in a clip that that isn't quite how it goes down. "There's a lot of complaining and a lot of explaining… being done through leaks," he said.
Further:
"They will feed or have a conversation with the correspondent," Harry explained. "And that correspondent will literally be spoon-fed information and write the story. And at the bottom of it they will say that they've reached out to Buckingham Palace for comment. But the whole story is Buckingham Palace commenting. So when we're being told for the last six years, 'We can't put a statement out to protect you.' But you do it for other members of the family. It becomes — there becomes a point when silence is betrayal."
It's my understanding, as an aspiring tabloid journalist who hasn't quite cracked the formula yet, that this sort of subterfuge is typically how tabloid journalism goes down. Meghan and Harry themselves have an uber-sympathetic, possibly, allegedly payrolled sympathizer at Yahoo in Sussex pal/journo Omid Scobie. But we're talking about the British monarchy vs. a B-list actress and a spare. The Queen must have signed off on all this silence, which I find evil and uniquely British, may Her Maj rest in comfortable peace in a gravesite placed directly atop her beloved husband, of course.
In the UK, Harry interviewed with ITV's Tom Bradby (not to be confused with this other working stiff). According to previews seen by BBC, King Charles and William have shown "absolutely no willingness to reconcile" with the last of their own kind (besides a 15-year-old named James, Viscount Severn, who probably looooooves royal protocol and is also really good at basketball).
Referring to the King and his protegé son William, Harry told Bradby, "They feel as though it is better to keep us somehow as the villains."
I want to give Harry a hug and whisper in his ear that yes, he and his beloved American humanitarian wife are going to be considered villains no matter what due to their content creating ambitions and annoying personalities. But no matter what, King Charles and Prince William will always be more evil and a hell of a lot less sexy.