Prince Harry: I Mean No Harm to My Ugly Racist Family
They're in bed with the devil, but they're fam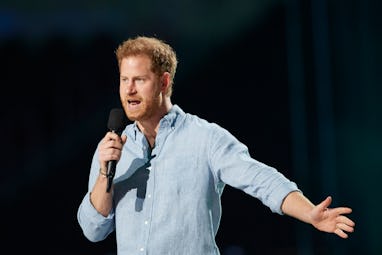 Penske Media/Penske Media/Getty Images
With one day left until the release of his empire-destroying memoir Spare, Prince Harry said that nothing he's written about in the book has been done with "intention to harm" his racist, bald family that bears no resemblance to his beautiful mother Princess Diana, whom he believed to be alive until he saw photos of her death scene a decade after the crash, not so long before his father married Camilla Parker-Bowles, which he begged him not to do, but ages after Pa got in bed with the devil.
To recap what you may have missed over the weekend, as Harry did some interviews and the Spanish language leak of Spare made its way across the internet and fomented some of the most incredible headlines of all time: Harry told Anderson Cooper that he and William didn't want Charles to marry Camilla, who he described as "dangerous" because of her willingness to cavort with the British press (per Insider). According to People, he also looked at a secret government file related to the car crash that killed his mother in order to jolt himself out of the numbness he felt in the aftermath. His father told him about the crash when he was twelve by saying "Darling boy, Mummy's been in a car crash" without really confirming she'd died.
Also, according to Us, Harry said that a number of unnamed royals are boinking up on Lucifer to "rehabilitate their image" in the press, including allocating significant resources to getting Camilla good press at the expense of Harry and William's wellbeing. Also, William's bedroom was always much bigger than Harry's, according to the New York Post. Now, according to Page Six, the royals are going full Churchill and setting up a "war room" to prepare for the onslaught.
But despite all that, bygones are gone for good, and it's all posi vibes only from here on out in this sweet family scrapbook.
"I love my father. I love my brother. I always do," Prince Harry told ITV's Tom Bradby (per People). "Nothing of what I've done in this book or otherwise has ever been with any intention to harm them or hurt them."
As Harry continued in the interview:
We're six years into it now and I have spent every single year of those six doing everything I can privately to get through to my family. And the thing that is the saddest about this, Tom, is it never needed to be this way. It never needed to get to this point. I've had conversations, I've written letters, I've written emails, and everything is just, no, you, this is not what's happening. You are imagining it.' And that's really hard to take.
And if it had stopped by the point that I fled my home country with my wife and my son fearing for our lives, then maybe this would've turned out differently.
By the way, Harry also revealed that at the birth of his son Archie (his firstborn, then came Lilibet Jr., and then the bouncing bundle of joy that is Archewell Productions), he was high on a canister of laughing gas that had been placed by Meghan's birthing ball during labor. And he was eating chicken, according to the Daily Mail. This anecdote has very little to do with his brother, father, or stepmother, but I think you'll agree with me that it is important to have on record.
The deposed boy prince is keeping the door open for reconciliation with the band of ugly, washed-up, necklace-breaking, dry-aging gaslighters that raised him. Harry's suffering at their sausage fingers knows no limits and he's assembled a loving chosen family with mum and dad Tyler Perry and Gloria Steinem (Glo is also Meghan's good friend), but he's hoping this is the occasion that will bring his bio fam back together finally. I guess we'll see if any of them show up to the book launch tomorrow. I hear they'll be serving Dubonnet and gin.