If My Sweet Queen Weren't Dead, Harry's Penis Would Have Killed Her
Thank god the monarch isn't here to witness her grandson describing getting his bare arse smacked in a field behind a pub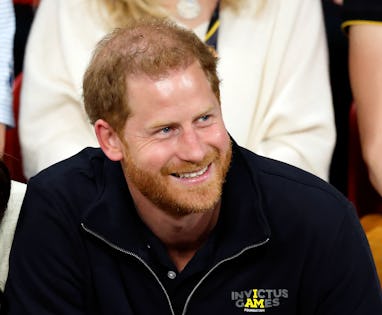 Max Mumby/Indigo/Getty Images Entertainment/Getty Images
It seems like the only tawdry scoop that Prince Harry is holding back in Spare is the one question the Gawker girls have needed to know ever since we sprung forth as a unit from a Fabergé egg in a tumbling sea of iced java: Had the Queen ever heard the words penis or sex or vagina or smacked or my or rump before her tragic death last year? I don't think she ever said any of that out loud during the 17 decades of her life, and it's not beyond the realm of possibility that she and her beloved cousin Prince Philip alike had totally smooth pink mounds in lieu of genitalia. Too much? Blame Harry, who has me feeling randy after revealing in his forthcoming bildungsroman that he lost his virginity in a "quick ride" in a "grassy field behind a pub" to an elderly horse girl who treated him like a "young stallion" (per Us Weekly).
Thanking my lucky stars and also Anglican God that the Queen is dead so she doesn't have to hear any of these words. This book and its salacious details about brother Willy being a "religious" Suits fan would legitimately kill her. But for the rest of us pervs, it's giving us liiiife.
Harry referred to the consensual seizing of his soon-to-be-frozen todger as an "inglorious episode with an older woman." Of his elderly paramour (this racist handmaiden lady?!) Harry wrote, "She liked horses, quite a lot, and treated me not unlike a young stallion. Quick ride, after which she'd smacked my rump and sent me to grace."
This excerpt appears to be from a leaked Spanish language edition of Spare (the regalo that keeps on giving!), so translations vary across sites but the gist is the same: while the Queen was off signing documents and telling various members of parliament and the rapidly diminishing German royal family to "do sit," Harry was off at the pubs doing stuff that would fell his little gran quicker than she could say "Muick." While I'm sure that, like Harry, the Queen's done her fair share of cocaine, she'd never commit that to writing. It's just not done.
Dearest Harry, all we wanted was a little tea on you and your dad's relationship – we never expected all this. Gran probably would not be proud of you, but we are.