Prince Harry Dishes on Mortal Enemy Rehabber Kooks
Don't make him type the name of former News of the World editor Rebekah Brooks, who ruined his life at Eton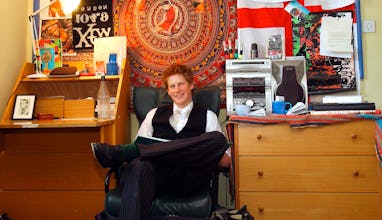 Tim Graham/Corbis Entertainment/Getty Images
Prince Harry's memoir Spare is out today, and all I can think about is: If I still worked in a bookstore, how would I shelve a memoir by a guy with no last name alphabetically? Second on my mind: What will Harry say about his greatest adversary besides Pa and Willy, the fourth estate, of which I am a part? We know he hates us, but I had no sense of just how much until I started listening to the audiobook, which Haz himself reads. And get this: he can't even utter the name of former Sun and News of the World editor, the embattled phone-hacker Rebekah Brooks. Instead, he calls her by an anagram of his own invention that almost makes sense, REHABBER KOOKS.
Harry's mortal enemyship began in late 2001 when the editor heretofore known as Kooks phoned Pa's office to share that she had evidence of Harry doing drugs at his Highgrove teenage man cave, Club H, and also in a bike shed behind a pub (Omg, was the older horse lover (not the Queen) who treated Harry like a stallion present?). Pa's aide Mark Dyer, whom Harry refers to as Marko, visited him at Eton to lay it all out. Harry denied all the charges, but alleges that Pa had already made a deal with the News of the World to publish the flaming hot scoop in exchange for good press about him. News of the World would frame the story around Charles as "harried single dad coping with a drug-addled child."
Harry calls that "a full Neville Chamberlain," which is of course a reference all of us, including this journo, understand.
Back at Eton in January 2002, Harry tried to relax but not even his "go-to soothing CD," a 40-track volume of baboons screaming called Sounds of the Okavango, could help. A watered-down version of the story, though still seven pages long, splashed across the front page of News of the World, headlined Harry's Drugs Shame.
"The story not only had me down as a habitual drug user, it had me going to rehab. Rehab! The editor had got her mitts on some photos of Marko and me paying a visit to a suburban rehab center, months earlier, a typical part of my princely charitable work, and she'd repurposed the photos, made them visual aids for her libelous fiction," he wrote.
Harry asked Mark who the fiery shrew was that published this absolute rot.
"I asked him to remind me, What was this editor's name? He said it, and I committed it to memory, but in the years since then I've avoided speaking it, and I don't wish to repeat it here. Spare the reader and also myself," he wrote. "Besides, can it possibly be a coincidence that the name of the woman who pretended I went to rehab is a perfect anagram for…Rehabber Kooks? Is the universe not saying something there?"
I guess so, yeah, my man. Rehabber Kooks. Very creative and certainly statement-making. A few pages later, he calls Kooks a "loathsome toad."
"Everyone who knew her was in full agreement that she was an infected pustule on the arse of humanity, plus a shit excuse for a journalist. But none of that mattered, because she'd managed to wriggle her way into a position of great power and lately she was focusing all that power upon…me," he wrote.
I love Spare, and I'd hate to see what Harry could do with my name.