A heartbroken Paul Mescal is throwing himself into work — and we love that!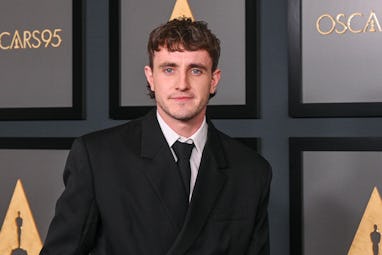 Gilbert Flores/Variety/Getty Images
Just weeks after garnering the sympathies of people who spend too much time on the internet for reportedly getting dumped by Phoebe Bridgers so she could reportedly date Bo Burnham, Paul Mescal is coming out on top. Like any industrious, heartbroken Irishman would, the Aftersun star is throwing himself into his work. And honey, it's paying off.
The film blog Above the Line reported on Monday night that Mescal would be replacing Blake Jenner in Boyhood filmmaker Richard Linklater's upcoming adaptation of Merrily We Roll Along following abuse allegations against Jenner by his ex-wife Melissa Benoist. You might not know who Jenner is (no relation to Kendall and Kylie) or what Merrily We Roll Along is (one of Stephen Sondheim's lesser known musicals), but trust me when I say that this is huge news.
Linklater's film will shoot over the course of the next 20 years, tracking the lives of three friends who start from nothing and eventually achieve varying levels of success in the theater and film worlds. Mescal will be playing Franklin Shepard, the strapping young composer who goes on to become a famous film producer. He rounds out a trio that already includes besties Ben Platt and Beanie Feldstein, so Mescal will be part of the great theater tradition of going to a drama camp where everyone else already knows each other and somehow that makes you the weird one.
On top of that, Deadline reported last week that Mescal is in negotiations to star in Ridley Scott's Gladiator 2. If Merrily is for girls and gays, this one is for the fellas, and Mescal is quickly establishing himself as a star for all people. Or at least a star for this person, who is watching from afar and approving of all his career choices.
Mescal is clearly winning, so what comes next? He's been hitting the pavement on an Oscar campaign for Aftersun, and in a strange year for Best Actor, he could slide right in. He's about to open a West End production of A Streetcar Named Desire, which seems weird, but I'm willing to go with it. Maybe a Broadway transfer? Who knows! The world is his oyster. As we all know, the best way to get over someone is to become one of the best and most exciting actors of your generation. I heard getting coffee with Angelina Jolie also helps.