She Did That: Olivia Wilde Was Letterboxd's Most Watched Female Director of 2022
No thanks to the fake news media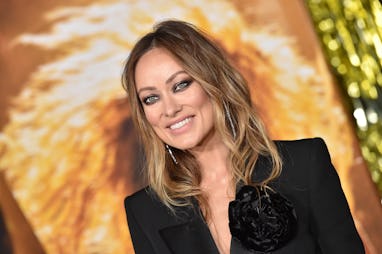 Axelle/Bauer-Griffin/Getty Images Entertainment/Getty Images
We're in the thicket of awards season, and the race for best director is really starting to take shape. If I had to put money on it today, I'd say that come Oscar nomination day we'll see Todd Field, Steven Spielberg, James Cameron, Daniels Kwan and Scheinert, and Martin McDonagh get nominated. Who isn't on that list? Famous female director Olivia Wilde, whose sophomore film Don't Worry Darling was one of the most mid films of last year.
While she certainly won't be nominated for an Oscar, Ms. Liv is kicking off her year by earning an equally prestigious title: Most Watched Female Director on Letterboxd. Your champagne is in the mail, hon!
This major achievement comes via the film logging site's 2022 Year in Review, which in an inclusive twist has separate categories for "Most Watched Director" and "Most Watched Female Director." That rocks. Underneath Wilde's category is a subhead that reads "Yes, we'll keep doing this until we don't have to." Yes, allyship!
Wilde's Don't Worry Darling was watched 472,000 times by Letterboxd users, while The Batman, directed by Most Watched Director (Boy Version) winner Matt Reeves, was watched 1.5 million times. I'm not making any claims to be a data scientist, but comparing the directors' 2022 films makes me think that Wilde's category will be sticking around for a while.
Some of the women joining Wilde in the ladies' room are Domee Shi, who directed the Pixar film Turning Red, Jane Campion, and Mary Harron of American Psycho fame. The list is rounded out by next year's assumed winner of this honorable title: Greta Gerwig.
Wilde had a bumpy 2022, so I hope this trailblazing distinction gives her a little pep in her step as she enters the new year. She should take heart in the fact that a bunch of people (myself included) who love getting off their little jokes about Tár wanted to watch her films the most — after they watched all the movies by men, of course.