Machine Gun Kelly Snorts Line Off Megan Fox's Boob In Desperate Plea For Relevancy
These two are gonna break up sorry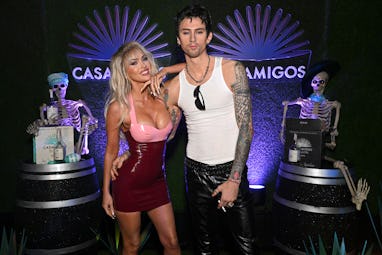 Michael Kovac/Getty Images Entertainment/Getty Images
Machine Gun Kelly and Megan Fox, who got engaged in January and have been on Gawker's Breakup Watch since August, celebrated Halloween this weekend. Like many, many other B- and C-list couples, they dressed up as Pamela Anderson and Tommy Lee circa 1995, probably because they watched the Hulu show together and were like, "hot." While this costume choice alone was not enough to make headlines, MGK's decision to "snort" "cocaine" off Fox's fake boob and then post about it on Instagram has the commenters going wild.
See here:
Is that actually coke? It looks more like powdered sugar. Either way, some fans are mad. "I cannot keep defending y'all wtf is this😭" reads one representative comment. Other commenters claimed that MGK and Fox are setting a bad example for both their teenage fans and their own children (MGK has a 13-year-old daughter with a previous girlfriend, and Fox has three children ranging in age from 5 to 9 with her ex-husband Brian Austin Green).
Unfortunately, this just seems like one more stunt designed to convince the public that the two are still obsessed with each other, drinking each other's blood, etc, in the wake of breakup rumors. Last week, after attending the Time 100 gala together (punk), Fox posted the following comment on her beloved's Instagram:
This relationship will not last the year.
Still, the couple soldiers on in their attempts to get people to care about them. After they peeled their Pam and Tommy costumes off on Saturday night, they dressed up like a naughty priest and some kind of BDSM worshiper the next day. Fox posted a carousel of photos with the caption "On Sundays we take communion," including both the prayer hands and rosary emojis.
Some commenters were also offended by this, if you can believe it.
So far, MGK has not responded to either controversy. Instead, he posted a video of himself drinking coffee out of a "Witches Brew" mug while watching The Office on a laptop this morning, which you have to admit is pretty hardcore.