OMG Kyle Noooo, Don't Leeeaaave
'Real Housewives of Beverly Hills' star Kyle Richards is threatening to leave the show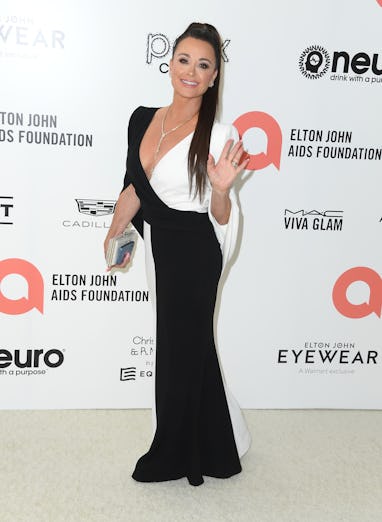 Steve Granitz/FilmMagic/Getty Images
In last night's episode of The Real Housewives of Beverly Hills, Kyle Richards stirred the pot by telling Dorit and PK that Sutton wasn't appropriately bereft after learning about their break-in; an event during which Dorit was held at gunpoint. (Sutton had her own stuff to worry about — a designer stuck in France, etc.) In this morning's news cycle, Kyle Richards is stirring the pot once again by telling E! News that this Real Housewives season might be her last.
Nooooooooooo, OMG Kyyyyyylee, nooooooooo.
The current season ends with trouble in Kyle's relationship with her sister, the enigmatic Kathy Hilton. According to E!, Kyle was sure she wanted to leave the show when filming wrapped. "I was like, 'There's absolutely no way,'" she said. "'I'm done. I'm finished. I want to live my life in peace. I can't take this.'" ("Me vibes," you're thinking, regarding having to complete any task, and it's true — that is so us.)
But it's unclear to Kyle whether this feeling will remain, or whether it will pass. Her appearance at NBC's upfronts presentation, where this interview with E! took place, suggests to me that she plans to remain on the show. And Kyle told E! it's possible her feelings will change, as they tend to after she digests each new season. "I don't know," Kyle said. "I just take it day by day." Of course, that's all any of us can do.
And of course, she has to stay. Because what would we do without Kyle? Who would do the splits? Who would spin her ponytail around on top of her head while dancing? Who would rep Mo's The Agency, "a billion-dollar brokerage that utilizes world-class technology and innovative marketing strategies to assist agents and their clients in achieving their real estate goals," with a stunning The Agency baseball cap? Who will order a margarita and explain to each new bartender without prompting that her husband is Mexican?
Stay strong, Kyle, and keep yourself trapped in the hellish nightmare that is the Housewives brand. We need you there. We've gotten comfortable seeing your face, and each of your new faces after that. We love you. You're our family now. Hello, Kyle. (That's me doing an impression of Ken Todd saying "Goodbye, Kyle.") HELLO, KYLE!