Kyle Richards Incorrectly Thinks Chrissy Teigen Should Join 'RHOBH'
She's not done cooking yet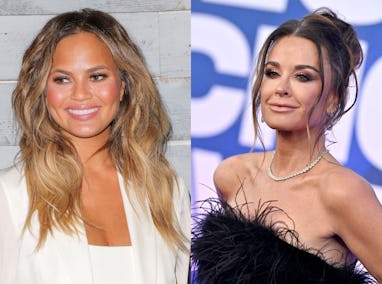 Kyle Richards: Axelle/Bauer-Griffin/FilmMagic/Getty Images; Chrissy Tiegen: Variety/Penske Media/Getty Images
Haircut villain Lisa Rinna announced her exit from Real Housewives of Beverly Hills earlier this month, and is still attempting to convince her viewing public that leaving the spotlight was her idea. Well, fine. Let's say Lisa Rinna is in fact "grateful" to leave the show that made her semi-famous because it "wasn't right for [her]," and that she will enjoy her break from being an on-screen demon before finally appearing on The Real Housewives Ultimate Girls Trip: Hell. Who, then, should fill her Depends? According to RHOBH main character Kyle Richards: Chrissy Teigen.
Richards, who is also in the news today for claiming to not use weight loss drug Ozempic (you go girl), tossed out her vote for the Gawker woman of interest while politely participating in harassment from TMZ. "Who should they replace Lisa Rinna with, maybe, if you were the casting director?" asks the young journalist while Richards picks up her keys from a valet. "I always said Chrissy Teigen would be the best," says Richards.
And you can see why she would think this. Teigen is an outspoken Bravo fan; she even appeared at last year's Bravocon seemingly without being formally invited by anyone. She's a woman who believes in expressing herself publicly, and has at least once told a teenager to take a "dirt nap." And the idea that she should be brought on as a Housewife has been floating around for some time, with Teigen herself as its primary source. "A lot of people think that I, like, love conflict or I'd be so good on, like, Real Housewives or something…," she said unprompted in a June 2022 interview with Entertainment Tonight. "I'm always like, 'No, no.'"
Although she is always like, no, no, it does not take much imagination to believe that once asked by Bravo she would be like, yes, yes. This would be the wrong choice, however. Chrissy Teigen is not ready to be a member of a Housewives ensemble. Though her fame flame is dying — she currently stars as the judge, or something, in the Roku (okay) show Chrissy's Court — she has not yet reached the embers stage of her career. What she has to lose by being a "good" housewife, especially a "good" housewife the way Rinna was a "good" housewife (morally indefensible, evil, screeching, plotting, haircut) is greater than what she has to gain.
Will Chrissy Teigen be a good candidate for the Real Housewives of Beverly Hills in eight years or 13 new face iterations, whichever comes first? Of course, and at that point we will welcome her with open arms. But until then the search continues. If I might make my own suggestion — since former Beverly Hills housewife Taylor Armstrong is heading over to the Real Housewives of Orange County, why not make an even trade? Taylor Armstrong for RHOC OG Vicki Gunvalson. We already know she's evil and more than willing to scream seemingly at random. And can you imagine her talking to Dorit?
Bravo — have Vicki Gunvalson open a branch of Coto Insurance in Beverly Hills. It's the only way to move forward.