Kristen Stewart: Princess Diana Could Have Used Some "Homies"
Only six more weeks of the 'Spencer' press tour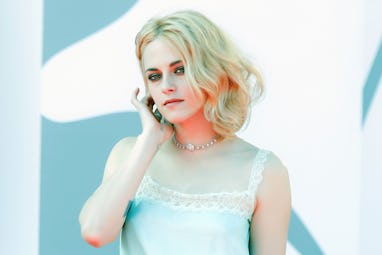 Laurent KOFFEL/Gamma-Rapho/Getty Images
Has anyone seen my homies?
Kristen Stewart has been promoting Spencer for approximately 15 years, since its September premiere at the Venice Film Festival. In that time, we have had the honor of hearing her say a wide variety of things about a film that had not much to say at all. Her performance and subsequent press tour have now miraculously landed her an Oscar nomination for Best Actress.
Throughout most of Joe Biden's first year in office,Stewart excelled at answering questions about the late Princess Diana despite knowing as much as any of us do about her sad life. Now, she is doing it yet again, this time in the pages of Vanity Fair.
On one of the eight covers of Vanity Fair's annual Hollywood Issue, she talks about how Diana was kind of a friendless loser: "One of the remarkable things is that she was so friendless," she says, saddened. "I'm constantly going, 'Where was your fucking homie?'" To that I say, "Yeah dawg, true. Where was her fucking homie?"
What Stewart wants you to know as she gears up to potentially win an Oscar is that she went hard for this role. She even tried to emulate bulimia, telling Vanity Fair, "I wanted to make sure that was not glossed over." Stewart explains how that means she tried to puke on camera, but could not:
She prepared herself beforehand and, in the scene, attempted to really purge. ("I'll do fucking anything.") Director Pablo Larraín, who was operating the camera, pushed in on her anguished face, capturing the act, but Stewart struggled. "I couldn't throw up on this movie, even when I really should have," she says. "I felt like absolute shit and I could not get it up, and I know it was because my body was just like…the idea of that was so untouchable."
Thank you for trying. But back to the royals. Does Stewart keep up with the living members of her character's family? The answer appears to be no.
I ask her if it's strange to think about Harry and Meghan living in California. As improbable as it seems, Stewart was unaware of their move. "That's so funny. I wonder where," she muses.
She simply knows nothing about the real version of her on-screen son Prince Harry and his wife and co-podcaster Meghan. This is perhaps because she skipped their bombshell Oprah tell-all: "It was almost too hot to touch in terms of how personal it was for me at the time." Well, now that there is some distance maybe she can check in — it seems they might be in dire need of some "homies" too.