King Charles Simply Can't Spare Any Balcony Room for Harry and Meghan
King Charles bans Harry and Meghan from the Buckingham Palace balcony for his upcoming coronation. Like they'd go anyway...loser ass...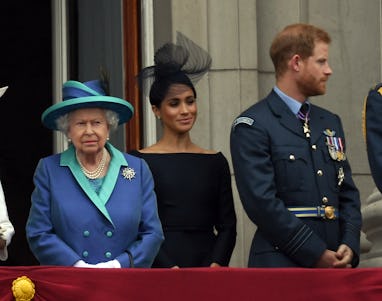 Anwar Hussein/Getty Images Entertainment/Getty Images
The balcony is back, bitch.
If you can remember all the way back to the Lilibethan Era of the British monarchy (last June), you'll recall that the Windsors and their lesser cousins, the Mountbatten-Windsors, were jockeying to the death for a plum spot next to either the late QUILF of England or next to our sweet baby baby Prince George on some freaking balcony at Buckingham Palace. The balcony has been used for ceremonial purposes for centuries, and so grand is this elevated photo op that Palace staffers had even developed a series of levees, harnesses, and pneumatic tubing systems (her fav) just in case they needed to hoist the Queen, who was suffering from stiffness and mobility issues, up there for her Platinum Jubbly.
On the day of the Jubbly, Harry and Meghan were banished to the groundlings section with creepy Uncle Prince Andrew. The Fabulous Markle Twins acted blasé or whatever about it, and were seen colluding with a bunch of down-line royals, none of whom were older than ten.
Now that the palace has to throw its second blow-out bash for the unfortunate occasion of King Chahz's coronation, history is repeating itself. That's never gone well for the Brits! King Charles has thrown his copy of Spare into the River Thames and the message is clear: his disloyal son Harry and his free-spirited American bride Meghan will NOT be on the balcony at Pa's coronation next summer.
According to the Daily Mail, "Last night Buckingham Palace confirmed that the newly crowned King and Queen will appear at Buckingham Palace after the ceremony in May.
As with the late Queen's Platinum Jubilee last year, the line-up of Royals alongside them will be restricted to working members of the family. That will exclude Prince Harry, Meghan and Prince Andrew, who no longer carry out official duties." Fabulous Markle Triplet alert? These three do seem to spend a fair amount of time together in the cheap seats.
But will Harry and Meghan even leave sunny Cali for Pa's big day? What about their charity work with Netflix? And of course, what about the children and their birthday parties?
"There is no indication from Buckingham Palace that Harry and Meghan would be barred from attending the event on May 6, which falls on the fourth birthday of their son Archie," the Mail reported. "Yet even if the couple do attend, a senior Royal insider said that it would be 'unlikely' that they would be included in major public appearances, including the balcony moment."
Last year, the Jubbly fell on Lilibet Jr.'s big day, and she only got 15 minutes with her slammed great grandmum. And worse, no money shot.