Kanye West Got Spiritually Married to Employee Named Bianca
Possibly so he could have Jesus-approved sex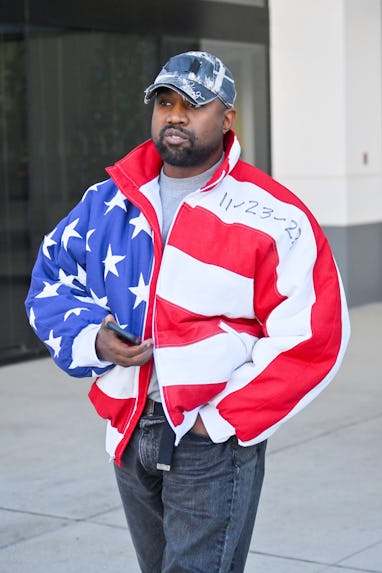 MEGA/GC Images/Getty Images
After a tumultuous 2022, Kanye West appears to be kicking off the new year with a new (spiritual) wife. TMZ reports that West, 45, had a private wedding ceremony with a woman named Bianca Censori, who happens to be a Yeezy employee. West and Censori were spotted for the first time together just a few days ago at the Waldorf Astoria in Beverly Hills, where West is reportedly living. In keeping with tradition, West has been wearing a ring on his left-hand ring finger.
TMZ notes, however, that there is no evidence West and Censori have filed for a marriage license to make their union legal. It's possible West only cares about being married in the eyes of the Lord: Last month, he released a song called "Censori Overload" in which he raps that he can't have sex outside of marriage.
What's there to know about Ms. Censori? Well, according to what appears to be her LinkedIn profile, she has been an "architectural designer" at Yeezy since November 2020. She graduated from the University of Melbourne in 2017 and got a master's in architecture from the same school in 2020, so it seems like she is from Australia. Sometimes she has blonde hair; sometimes she has brown hair. We don't know her age, but we'll go ahead and say 29.
So far, neither West nor Censori has commented on the relationship. But there are already fan pages for them on Instagram! Best wishes to the private couple.