Happiest Freak On Earth Kaley Cuoco Parties at Baby Shower With 400 Drones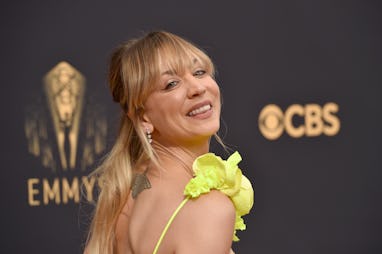 Variety/Penske Media/Getty Images
Kaley Cuoco, the literal luckiest girl alive, celebrated her baby shower yesterday with that guy she's dating. This was no ordinary stork fest, either: According to Instagram footage from the event, Cuoco hired 400 drones to spell out phrases like "BABY GIRL PELPHREY 2023" and "Tom + Kaley = <3 <3 <3" in the night sky. People reports there was a live band, a multi-course dinner, and Brad Pitt for some reason.
It's possible Pitt is a friend of Cuoco's random BF Tom Pelphrey, as Pelphrey has acted in two projects Pitt's produced, including the flop Weinstein drama She Said and the Amazon series Outer Range. Or maybe Pitt just likes baby showers, especially when they are as expensive and well-choreographed as a royal wedding.
Cuoco thanked her friends and family for attending the party on Instagram, referring to her baby as a "future unicorn." If you look really closely at the sixth photo in the slideshow, you can see that Cuoco now has her beloved rando's name — Tom — tattooed on her left-hand ring finger. Does this mean the couple secretly got married? My hope is no, not yet, because Cuoco deserves the big third wedding of her dreams.
A source tells People that "Kaley has been dreaming about becoming a mom. She can't wait for her baby girl to arrive. She is super excited."
Same!!!!!!!!!!!