Jinger Duggar Vuolo Rails Against the Cult That Raised Her
The former 'Counting On' star is not mincing words about the Institute of Basic Life Principles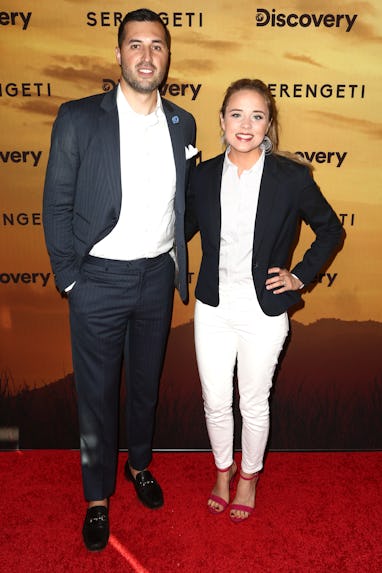 Tommaso Boddi/Getty Images Entertainment/Getty Images
Jinger Duggar Vuolo, whose name is pronounced "Ginger" but spelled like that to conform to her family's strict J-names protocol, has written a book about how she's finally free from the holy constraints of her family and their church, the Institute of Basic Life principles. It's called Becoming Free Indeed: My Story of Disentangling Faith from Fear . Jinger's wanderlust and apparent love for cities rather than the rural Arkansas landscape that raised her led fans to create a "Free Jinger" movement in 2019, paralleling "Free Britney," according to Page Six.
And now she's done it. Jinger's got a lot to write about. The former TLC fundamentalist/sibling to many appeared alongside her parents and their brood on 19 Kids and Counting. The show was canceled in 2015 when news broke that Josh Duggar, Jinger's older brother, molested multiple girls — including his own sisters — when he was a teenager. The family dealt with this news by sending him to church camp to cure pedophilia. Jinger was also the star of Counting On, a Duggar children spin-off on TLC which was canceled after Josh was arrested on charges of receiving and possessing child pornography.
Don't worry. Josh Duggar is in prison for 12 years, and Jinger moved to Los Angeles with her children and husband Jeremy Vuolo, a former soccer player turned pastor who had to fill out a 50-page questionnaire before he was allowed to court Jinger, according to Us Weekly.
In the press leading up to the Jan. 31 book release, Jinger also condemns the ultra-conservative Institute of Basic Life Principles cult leader Bill Gothard, whose teachings her parents Jim Bob and Michelle followed, and the culture that allowed her brother to continue to prey on children.
Jinger writes, "He built his teachings on fear, manipulation, superstition and control … so the way that I viewed God was that he's waiting to spite me, he's waiting to get me at any turn." Gothard struck so much fear into Jinger that she chose not to believe scores of women who came forward in 2014 accusing Gothard of sexual misconduct.
Speaking about Josh, whom she doesn't call by name, Jinger wrote "He used his platform, and even his job at the Family Research Council, to promote some of the same ideas Gothard taught. But while he looked the part in so many ways, the true Josh appears to be much different. He was living a lie." She has condemned Josh publicly, but hasn't spoken to him in two years. She continues to pray for him.
Jinger also touches on the Institute's ban on pants and tank tops for women: "That dress code was a big part of my life because Gothard said modesty was a serious responsibility for every Christian… [I] never found a passage specifically forbidding women from wearing pants.".
Sounds like hell on Earth. Good luck in your new life, Jinger. Don't accept any substances from any Hillsong-y art heauxs tonight at your book party tonight and you'll be okay.