Jamie Lynn Spears and Anthony Scaramucci Fall Out of a Plane On 'Special Forces: World's Toughest Test'
The most psycho reality show of all time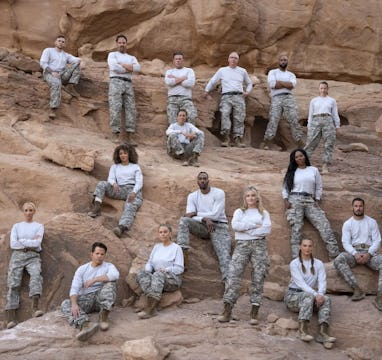 FOX
Within the first ten minutes of Fox's new reality show Special Forces: World's Toughest Test, Jamie Lynn Spears does a backwards dive out of a helicopter as a former British special forces soldier shouts "BUFFOON!!! CLOWN!!!" at her. Fellow "celebrity" contestants including Kate Gosselin, Mel B, and Dr. Drew, look on, some of them weeping. They have all come to the Wadi Rum desert in Jordan — the place where Star Wars and The Martian and Dune were filmed — to take the "special forces test," a series of British and American military training exercises that may or may not kill them.
Wednesday night's two-hour premiere introduced 16 contestants eager to undergo intense physical and mental challenges as well as get paid to be on TV. According to the British narrator of the program (a version of the show first premiered in the U.K. in 2015), there are NO PRIZES for winning, and the cost of failing is DEATH. I think we would have heard by now if someone died on this show, but I got swept up in the drama anyway, worrying about 7th Heaven's Beverly Mitchell, a petite 41-year-old with three kids at home who was ranked the "weakest" contestant by her peers.
All of the recruits seem to be Republicans or Olympic athletes or both. Spears is sort of the "star," but she is joined by Olympians Gus Kenworthy and Nastia Liukin (memba them?), former NBA star Dwight Howard, Real Housewife Kenya Moore, and, for some reason, former White House press secretary Anthony Scaramucci. Their task is to last ten days in the desert while pretending to be army guys. Shockingly, Kate Gosselin immediately gives up.
The 47-year-old former TLC star shows up to base camp inexplicably in pajama pants and falls over crying on her first two-mile run. Then, for the helicopter dive (filmed over a large body of water somehow near the desert?), she puts on some kind of floatation device under her fatigues because, of course, she can't swim. It seems like this fact should be disqualifying in itself, but Gosselin attempts the dive anyway, landing HARD in the water on her back. More tears, a suspected neck injury, and she's on a plane back to Pennsylvania.
The point of the show appears to be humiliation. In a later segment based on "interrogation" tactics, the staff sergeants put a black bag over Dwight Howard's head, lead him into a dark room, and then show him an article on a laptop with the headline, "Why does everyone hate Dwight Howard?" The bathrooms are gender-neutral holes in the ground, and unlike the army, no one gets a buzz cut or even a slicked-back hairstyle, which means that everybody looks like Cousin It rolled in the mud. The effect is particularly devastating on Beverly Mitchell.
Also, everyone's pants keep falling off.
Before the end of the episode, three more contestants leave the compound. Dr. Drew gets heat exhaustion, Montell Jordan breaks his wrist during an "aggression" exercise which involves the contestants taking turns beating up a random guy wearing pads, and chef Tyler Florence (?) quits because he misses his wife.
Is this the entertainment America wants? I'm worried someone is going to have a cardiac event either participating in this show or watching it. The whole thing gave me nightmares. I guess I'll be back next week.