Harry and Meghan Had a Hot-as-Hell Date on Diana's Deathiversary
He took a freight elevator and hid under the covers when room service came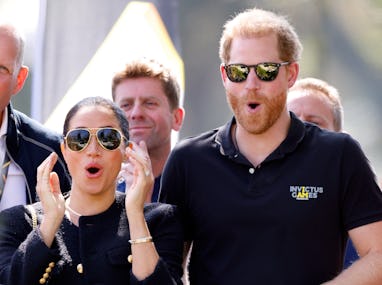 Max Mumby/Indigo/Getty Images Entertainment/Getty Images
In Prince Haz's now-bestselling memoir Spare, readers learn that Harry jetted off to a raucous boys' trip shortly after meeting Meghan Markle, but even the lads couldn't keep him from pining after his sexy new gal pal. He even handwrote his lil' lady letters during the trip after his phone died in a tragic jet-skiing mishap. These missives, which a friend of Harry's photographed and texted to Meghan daily, kept their flame burning white hot.
After the B.W. (boys' weekend), the lovebirds were so desperate to see each other again that Meghan flew to London and called her ginger beau as she stepped into her hotel room at Soho House. (At that point, Harry must have recovered his phone in a bag of rice.)
Come see me! she is said to have said, likely hoping to de-suit…
I can't, I'm in the car… Harry responded, on his way to Althorp, where his late mother Princess Diana was buried. It was the anniversary of her death, and Willy and Harry were laying flowers on her grave. Meghan apparently had no idea what he was on about — after all, she had never Googled him — and he promised to meet her when he was back in London from his mum's grave that night. Pain and pleasure are intrinsically tied to one another, as Harry knows all too well.
At that point, the future husband and wife were still sneaking around, which I'm sure made things feel even more exciting. Meghan told Harry about a secret way into Soho House, through a service elevator.
"Her friend Vanessa, who worked for Soho House, would meet me and usher me in. All went according to plan," he writes in Spare. "After I'd met the friend and navigated a sort of maze through the bowels of Soho House, I finally reached Meg's door. I knocked and suspended breathing while I waited. The door flew open. That smile."
What happens next is not meant for innocent eyes: "I want to say we hung a Do Not Disturb sign on the door. But I don't think there was time." Mamma mia!
The next morning, the smoldering duo wanted a post-coital nosh… maybe oysters… or bangers and mash… or a full pheasant… When room service came, Harry had nowhere to hide but under the duvet of their sex crib.
"Alas, our breakfast wasn't delivered by just any anonymous waiter. It was brought by a hotel assistant manager who loved Meg, and whom she loves, so he wanted to chat," he writes. "He didn't notice that there were two breakfasts on the tray. He didn't notice the prince-shaped lump under the duvet. He talked and talked… while I, in my duvet cave, started to run out of air."
Sorry, but that guy definitely noticed, you crazy Haz…
Then, the duo went to Waitrose to get ingredients for dinner. Meghan wore a beanie. Nobody recognized her. Sad.
Sounds like a real 24-hour marathon of exasperation, ecstasy, and expenditure. I hope they got some Lucozade Sport to drink alongside their parchment paper and salmon to keep their energy up for additional activities (more bonking).