You're Laughing? Harry Styles Split His Pants Open Onstage and You're Laughing?
Shameful behavior on your part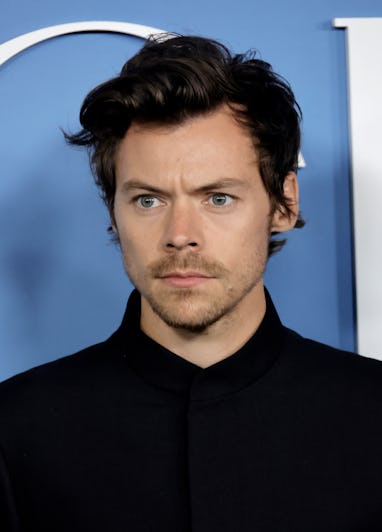 Kevin Winter/Getty Images Entertainment/Getty Images
"Ha-ha," right? "LMAOOOO"? God, you make me sick. Sitting on your filthy couch in your pajamas in the middle of a goddamn Friday afternoon, giggling like baby playing peek-a-boo, just because you heard you might get a "peek" at Olivia Wilde's former "boo" splitting his tight leather pants right at the crotch in front of thousands of fans — including Jennifer Aniston and Ellen DeGeneres — in Inglewood, CA last night. Disgusting. Just gruesome behavior.
How about you explain to me what's "funny" about this situation. All right? You explain to me what exactly is "funny" to you about Harry Styles sliding his crotch right into the faces of the fans standing closest to the stage, throwing his hands in the air, and splitting his little brown pants right in the worst possible spot. And then not noticing until he stood up. And then having to dance away while simultaneously singing and holding his crotch, with all of it playing out exactly in time with the music as if it were planned. And Kylie Jenner was there too, and Trevor Noah. You tell me what's "funny" about that, okay? I'll wait.
"See the Moment Harry Styles Accidentally Splits His Leather Pants During His Concert," says People magazine. Really, People? How about, Give Harry Styles Some Privacy Until He Has a Moment to Change Into New Pants With an Intact Crotch Seam. Huh? What ever happened to, Close Your Eyes for a Moment; We Won't Tell You Why Because It's None of Your Business. Oh how I long for the days of, Hard Worker Harry Styles Experienced a Moment of Humanity That You Shouldn't Watch, and Haven't We All Been There?
It is indecent and immoral to indulge in this video of Harry Styles splitting the crotch of his leather pants on-stage:
You should be ashamed.