Debra Messing Is Addicted to Weighing In
"No I'm not," she's currently tweeting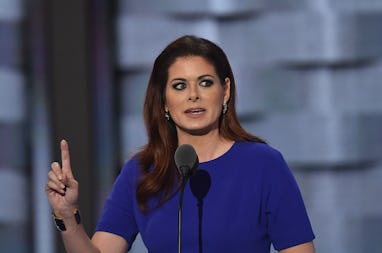 The Washington Post/The Washington Post/Getty Images
We all follow someone who tweets way too much. You can scroll their feed for what seems like eternity only to realize that you've only made it back 17 hours. This person could be a real-life friend, a coworker, or, in the worst case scenario, Debra Messing. The woman cannot help herself – she is addicted to weighing in, and sadly there is no cure.
On Thursday night, as the news broke that Alec Baldwin had fatally shot cinematographer Halyna Hutchins with a prop gun on a film set, Messing felt the call. Conservative plagiarist Benny Johnson tweeted, "BREAKING: Alec Baldwin kills person with gun, criminal investigation underway... This is the accurate headline fyi." No charges have been filed, and a criminal investigation is not underway, but that's not what Messing took umbrage with.
"It is absolutely NOT. A prop gun was handed to him . He used it in the scene. Then- a catastrophic event happened where Halnya Hutchins lost her life and Joel Souza was injured. I am praying for all of their families," Messing tweeted in defense of her Will & Grace co-star.
While she is technically correct — the gun reportedly contained a live round and the propmaster wasn't union — her need to tweet about it begs the question: Did we need Debra Messing's take here? The answer, obviously, is no.
Messing is no stranger to the narcissistic need to have her voice heard on just about anything. As one of the chief celebrity tweeters of the Trump era, Messing was known for her necessary contributions to the discourse, like all those times she yelled at Susan Sarandon. But in the age of Biden, Messing has simply not let up, and the Smash star continues to #resist. In September, she made a fuck-ton of headlines for tweeting, "Why Kim Kardashian… Am I missing something," when it was announced that the reality star would be hosting Saturday Night Live.
And in the last 24 hours, Messing has weighed in on:
This does not include her retweets and the daily horoscope that she apparently doesn't know how to turn off. (Yesterday, it said "Excitement could spark your enthusiasm for an innovative idea.")
For Messing's sake, I hope someone who loves her tells her to log off and start working on something important, like getting a third season of Smash made for Peacock.