Wait: Brad Pitt and His Fake Girlfriend Have the Same Birthday???
They are 59 and 29 (or possibly 33)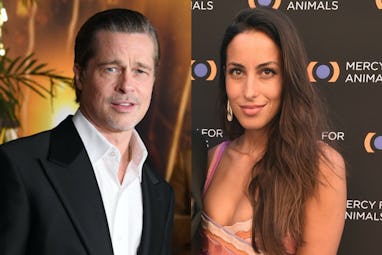 Photo by Steve Granitz/FilmMagic / Photo by Alberto E. Rodriguez/Getty Images
This is a confusing story, filled with vampires and aging actors and jewelry company executives who are either 29 or 33. Let's start from the beginning.
Brad Pitt has been "dating" a gal named Ines de Ramon since last month. First, they were photographed together backstage at a Bono concert. Then, de Ramon was spotted wandering around the afterparty of Pitt's Babylon premiere this weekend. And now, the tabloids are reporting that Pitt celebrated his 59th birthday with de Ramon at a restaurant in Hollywood on Sunday.
As the story of this beautiful relationship has begun to take shape, the tabloids have provided information about the mysterious de Ramon in drips and drabs. We know that she used to be married to Paul Wesley, one of the stars of The Vampire Diaries. People says she's 32, while Us Weekly says she's 29. The Daily Mail originally reported that she was a member of Pitt's "team," but her LinkedIn profile says she's a VP at Anita Ko Jewelry. She has long brown hair and is "fun and energetic," according to a source.
There are several photos of Pitt and de Ramon getting in and out of a car outside Pace Restaurant in Laurel Canyon on Sunday. The tabloids have all noted that Sunday — December 18 — was Pitt's 59th birthday. Subsequently, they have assumed in their coverage of these photos that the duo were celebrating that momentous occasion (just six more years until Medicare kicks in).
HOWEVER. In Page Six's roundup of the blurry paparazzi photos, they included a few in which Pitt can be seen hugging another "mystery woman" goodbye. This woman "seemingly attended the celebration, too," the outlet reports. Who is she?
To me, she looks exactly like Nikki Reed, an actress who starred in the Twilight movies. Reed is currently married to Ian Somerhalder, who starred on The Vampire Diaries with Wesley (de Ramon's ex). Yes, Twilight and The Vampire Diaries are both about vampires. Incidentally, Wesley and Somerhalder own a bourbon company together called Brothers Bond Bourbon that Reed helped fund.
What was Reed doing at Pitt's birthday dinner? A quick visit to her Instagram suggests the dinner was not for Pitt at all. She posted a story yesterday in which she bragged about printing out photos of her good friend de Ramon for HER birthday dinner:
Wow. We don't know exactly when de Ramon's birthday is, but a random website called nationaltoday.com says it's December 19, just one day after Pitt's. That makes de Ramon anywhere from 29 to 33 years old.
This just goes to show that you can't trust the tabloids. Also: Pitt and his fake girlfriend have something in common, after all.