Apple Martin's Secret to "It Girl" Status Revealed
Believe it or not, it isn't nepotism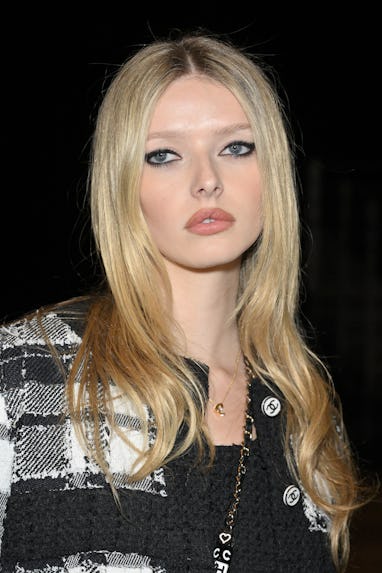 Stephane Cardinale - Corbis/Corbis Entertainment/Getty Images
If you spied a white plume of smoke arising from Montecito this week, please be aware that that was not a wildfire in the literal sense, but instead an announcement that a new young woman has set the fashion world on fire. This latest so-called It Girl is Apple Martin, the famously fruit-named daughter of Gwyneth Paltrow and Chris Martin. She sat front row at the Chanel show during Paris Fashion Week, and every fashion-adjacent outlet went wild.
Headlines declared that she was officially a "Chanel girl," quoting an Instagram post in which professional famous-person friend Derek Blasberg said that Karl Lagerfeld had prophesied the title when Martin was just four years old. Martin has a narrative, connections, and money, all but guaranteeing a pathway to at least low-level influencerdom, but these days that's not always enough to distinguish someone from the rest of the pack. What does Martin have that sets her apart from the other daughters of famous women? Why is she our new queen? It's actually quite simple: Her eyes are far apart.
This is the secret sauce for It Girl status. It doesn't have to be eyes specifically — although you could call this the Anya Taylor-Joy Effect — but rather, any feature that you cannot obtain via plastic surgery. This is most easily achieved by having "interesting" (read: spatially distant) eyes. When someone is said to have an "unique" look like Martin's or Taylor-Joy's, it usually means they look kind of like a lizard, but in an editorial way.
I am not the first person to notice this. There's even a TikTok filter that allows people to change the distance between their eyes. "Why would the A24 casting department fucking eat me the fuck up if I looked like this?" one person using the filter asked in a popular video last November:
The A24 casting department would in fact eat her the fuck up if she looked like that. Anyone can have their buccal fat removed, but as far as I know, plastic surgeons have not yet figured out how to move your eyes half an inch closer to your temples. Maybe our next It Girl will have something else doctors can't fix, like massive ears.
So congratulations to Apple Martin on inheriting her dad's genetics! Like Taylor-Joy, Kate Moss, Gemma Ward, and Miranda Kerr before her, her eyes have it. And plastic surgeons, it you're listening, I have an idea that I think could make you a lot of money.