Everyone Agrees: Allison Williams Is Self-Aware
This is the official line on the 'M3GAN' star, and you better get with the program!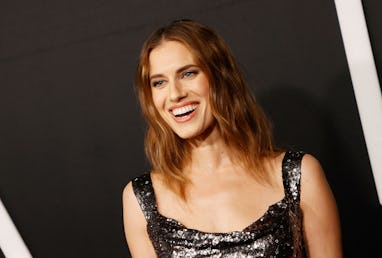 MICHAEL TRAN/AFP/Getty Images
We here at Gawker love Allison Williams. We all love Girls. We obviously think that her work in Get Out is masterful. I believe one of my brilliant colleagues once called the thriller where she's a cellist "pretty good." And we are all very excited to see M3GAN, in which she plays a scientist named Gemma who creates a murderous doll who is up to date on TikTok dances. But we have to be honest here, there is no good way to do a profile on Williams.
Last week, Williams was in Wired with the headline "The Singularity of Allison Williams." Today, she is featured in both Vulture and Town & Country, with the New York magazine culture site saying that she has "made a career of subverting her own image" and the posh lifestyle mag saying that she is "passing on the vibe shift," whatever the hell that means.
Each profile comes to the exact same conclusion, that Williams — you'll never believe this — knows what she's doing. There are paragraphs in each story devoted to the fact that Girls was actually a satire. There are quotes from Rita Wilson and Jordan Peele about what a keen performer Williams has always been. They talk about nepotism and Williams answers the question with what Vulture calls "a refreshing lack of defensiveness." (In Wired, she "can even say the word 'nepotism' without her voice lowering into a defensive crouch," and in Town & Country, she knows her being case in Girls "wasn't fair, and it costs her nothing to admit it.") All three profiles agree: Allison Williams is self-aware.
The thing is, anyone who opts to spend seven minutes of their one precious life reading a profile of Williams already knows this. It's kind of her whole thing. She looks how she looks and loves to play wicked bitches. It does not take a genius to figure out what's going on. It would actually be more interesting if she didn't know what she was doing.
This is by no means the fault of Williams herself, who as I said before is a beloved actress around these parts. The Girls star's whole schtick is just readily apparent to anyone who spends more than an hour watching her work. She literally followed up her performance as a prissy WASP in one of the buzzed about shows of all time by playing a murderous white supremacist. (Peter Pan. Just kidding.) No one knows what to do when a beautiful woman has spent more than ten minutes thinking about something, and it's common to panic and crown her a genius.
The Town & Country profile opens with an anecdote about Williams leaving Instagram because she is someone who "cares a lot about being understood" and people were attacking her charitable work in bad faith. It seems there is no longer any bad faith in her latest press tour — in fact there is almost too much good faith. Blame it on the vibe shift.