'Traitor' Alan Cumming Shoves His OBE Medal Right Back Into King Charles' Fat Wet Hands
He's no longer an Officer of the British Empire after learning of its "toxicity"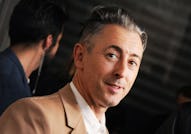 Fairchild Archive/Penske Media/Getty Images
Alan Cumming, beloved performer and well-dressed sadist in charge of the The Traitors, displayed some pretty powerful turncoat behavior on his 58th birthday: He gave back his Officer of the British Empire title after learning about the late Queen's "toxicity."
In an Instagram post, Cumming shared that on the Queen's 112thish birthday in 2009, Cumming received the honor for his acting and also for "activism for equal rights for the gay and lesbian community, USA."
Since then, Cumming's glad tidings towards the British Empire has hardened some. Cumming wrote, "The Queen's death and the ensuing conversations about the role of the monarchy and especially the way the British Empire profited at the expense (and death) of indigenous peoples across the world really opened my eyes."
I'm proud of him for integrating concrete action into his activism, but it's a bit cowardly to wait until Lilibet Emeritus died to do this, even if her death is what woke him up. It's a lot easier to return an honor to a barrel-fingered lunatic King than it would have been to hand a medal back to the Queen, whose bones were quite delicate.
"I'm back to being plain old Alan Cumming again," he said, posing wide-eyed, legs all criss-cross applesauce, in a pair of long johns meant to resemble a 1970s-style powder-blue tuxedo. He's also wearing yellow Chuck Taylors, so you really know he's casual now.